January, oh wow you've been a cold one! It's not been as cold here as other parts of the world, but it's been -5 in Nottingham some mornings and I call that cold.
Weird old month January, everyone has the blues, but I felt a bit overwhelmed this month. I am trying to start my own business, work on my creatives side and settle back in to living in the UK and to say it's been a bit tough is an understatement.
Missing Malaysia a lot at the moment, the warmth, yes it was unbearable at times and oh lawd did I sweat, but I miss the sun on my skin and the way that made me feel. I miss the food, missing going for curry, dim sum, laksa all the time and it only costing a few pounds. I miss that we were always planning trips, from weekends away to once in a lifetime trips.
It's not that I am not saying I am sad to be home, I love getting to see my friends and family more than twice a year but a bit of my heart is still on the other side of the world so January has been a weird old month.
That said I have loved unpacking the things we acquired whilst living there and reworking our house to fit them in. It feels so much more homely than when we first got back and I love it. I have also been loving lighting the fire and candles for that cosy feeling. I just love light and heat, clearly.
We did escape to Cornwall for a week just after New Year so that Ben could rest after working 80hr weeks for nearly 2 years. We had a fab time, I'd highly recommend a January holiday, no one else around and you escape the January blues, if only temporarily. Anyway on with the best of Jan.
Best of Jan – Beauty
Got some fabulous natural products for Christmas, from my lovely Secret Santa. And some more in my stocking, I may have given some major hints (sent links) for these.
In my opinion this is an all natural, vegan, cruelty free version of Elizabeth Arden's 8 Hour Cream. Feels the same on the skin, if not a little lighter, is for skin issues but can be used as a highlighter, lip balm, primer or general moisturiser. I love this, it will be a permanent addition to my skincare collection.
This smells amazing. I have taken to putting a few drops in my bath to make it last longer. My skin is moisturised and I only need to use a few drops.
Lily Lolo makes makeup that is natural and good quality. Light in formula and nice colour. Needs reapplying but looks natural so that doesn't bother me.
This is a great no nasties, organic, cruelty free, light hand cream. The scent is also light, perfect for my handbag.
Not as natural as the products above, Kiehls is known for using organic, natural ingredients and this lip balm is excellent at healing chapped lips.
This one is Paraben-free, fragrance-free, mineral oil-free. It also gets excellent reviews. Pricey for 15ml but I think it works. Maybe not overnight but certainly over a week I noticed my eye area looked better.
Best of Jan – Books
Got out of reading a little this month. I find I go through stages when all I want to do is read and devour books in record time or feel like my head is too full to add anything else into the equation – anyone else? So I haven't read much this month, must try better in feb.
I am a massive fan of The High Low Podcast by Dolly and Pandora Sykes. And this was hyped by pretty much everyone I follow online so it was one of the first books I purchased. It's fabulous. Reminds me of being a teen and all those stories that at the time you just wanted to forget but now bring a feeling of warmth and humour. If you haven't read it, do it. Out in paperback soon with added extras!
Another, have you been living under a stone book. And another that was on my must buy list. Loved it. The characters are so well written and as the books says normal, they could be you or me and that was exactly what I loved about it. People were divided on it and from the reviews I read this was mainly down to the lack of speech marks. Yes it was odd at first but I got used to it and soon forgot that they should be there.
Best of Jan – Entertainment
Knitting has been my frustration of the month. I have tried, unpicked and tried again and I am making little progress. I was quite good, but haven't done it for a few years. Just goes to show, use it or lose it!
what a film. Funny, shocking and necessary. A must watch.
The Favourite
I thoroughly enjoyed this. Quirky, unique and so entertaining.
This took me by surprise, it has a twist in the plot that you won't see coming and Joaquin Phoenix is amazing in it.
Binge watching – The Bridge
Since the beginning of January we have watched 3 and a half series of it and I am obsessed with all things Scandi. To the extent I want to sell all my furniture to replace it with Danish classics.
Best of Jan – Food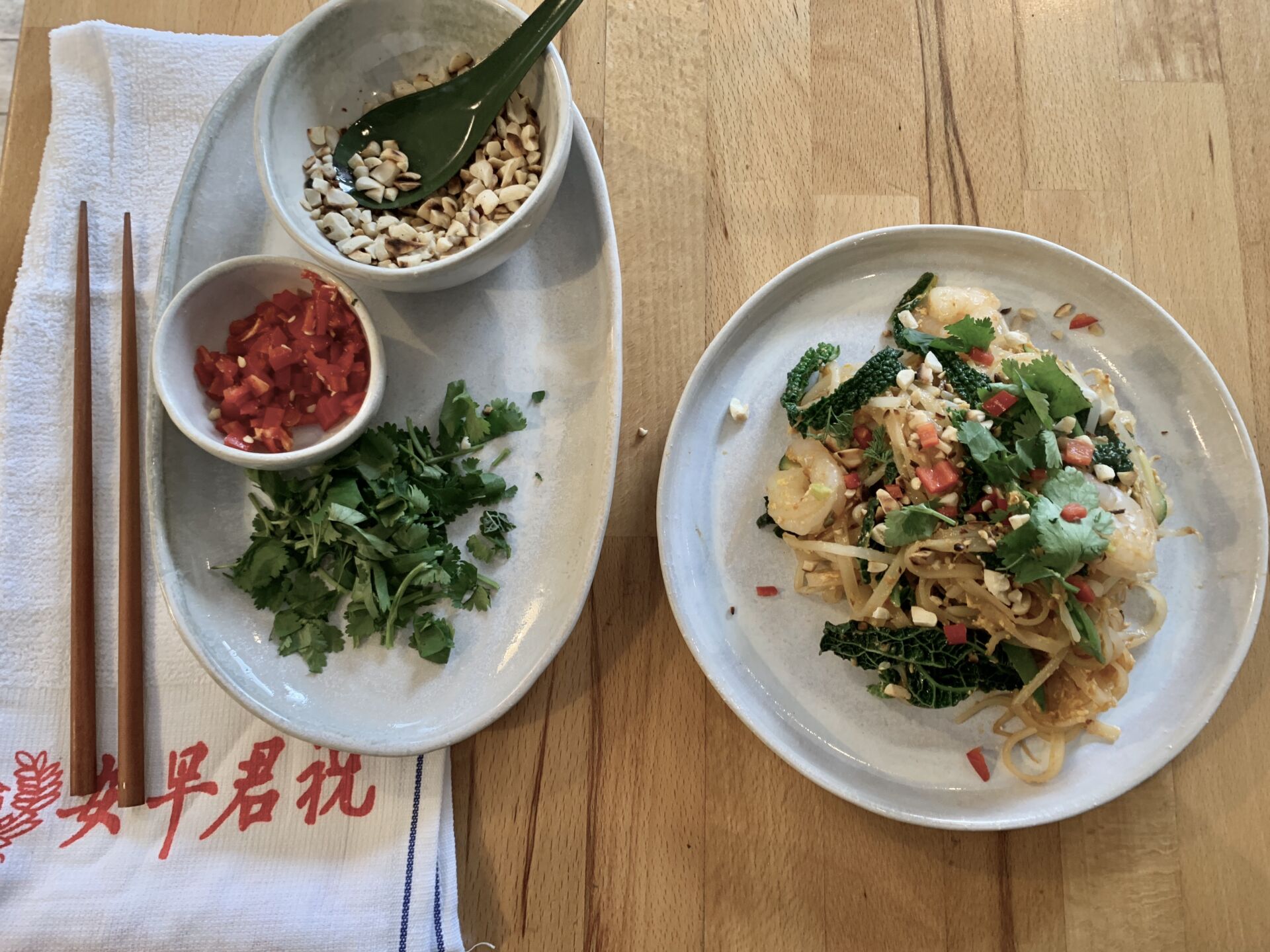 Anything spicy has been my preference
I made Pad Thai – recipe up here on Thursday. We also made Shakshua whilst away – recipe to follow.
Also been loving the carbs, when its cold reach for the carbs, preferably with cheese, lots of cheese! See my mac and cheese recipe here and Veggie Lasagne here, two must have recipes for the winter in my opinion.
Jim Jam's
I have discovered a better for you hazelnut chocolate spread – Jim Jam's is a good alternative for Nutella, something I became slightly addicted to in Malaysia. Jim Jam's uses a natural sugar alternative meaning a lower sugar intake. They also use sustainable palm oil.
I did a lot of reading about Nutella and palm oil as its declared on their ingredient list and Ferrero too uses only sustainable and traceable Palm Oil. Some would say any palm oil is bad but it is a complex issue. It is the most yielding plant for oil, meaning it needs much less space to produce the same amount of oil. The palm oil industry is vast and as such employs 2- 3 million people in Indonesia alone. So it isn't about stopping production of this oil it's about only buying sustainable palm oil products so that the industry has to change its methods and all palm oil becomes sustainable. WOW that was a long one!
I must say the taste of Jim Jam's isn't as good as Nutella (sorry) but it does mean I eat it less frequently and when I do I am not consuming a product that is 56% sugar.
Best of Jan – Music
My playlist this month is a right mash-up.
Choir Of Young Believers is led by my love for The Bridge's title track, which I can't help but sing off-key. Need to listen a bit more, but I fear that I might only like the title track!
Mammal hands is my new working obsession, so easy to work to but a bit different.
Love Planning To Rock and Obongjayar.
So January a funny old month is out-of-the-way, hopefully it's warming up a little and spring is just around the corner, lots to look forward to!