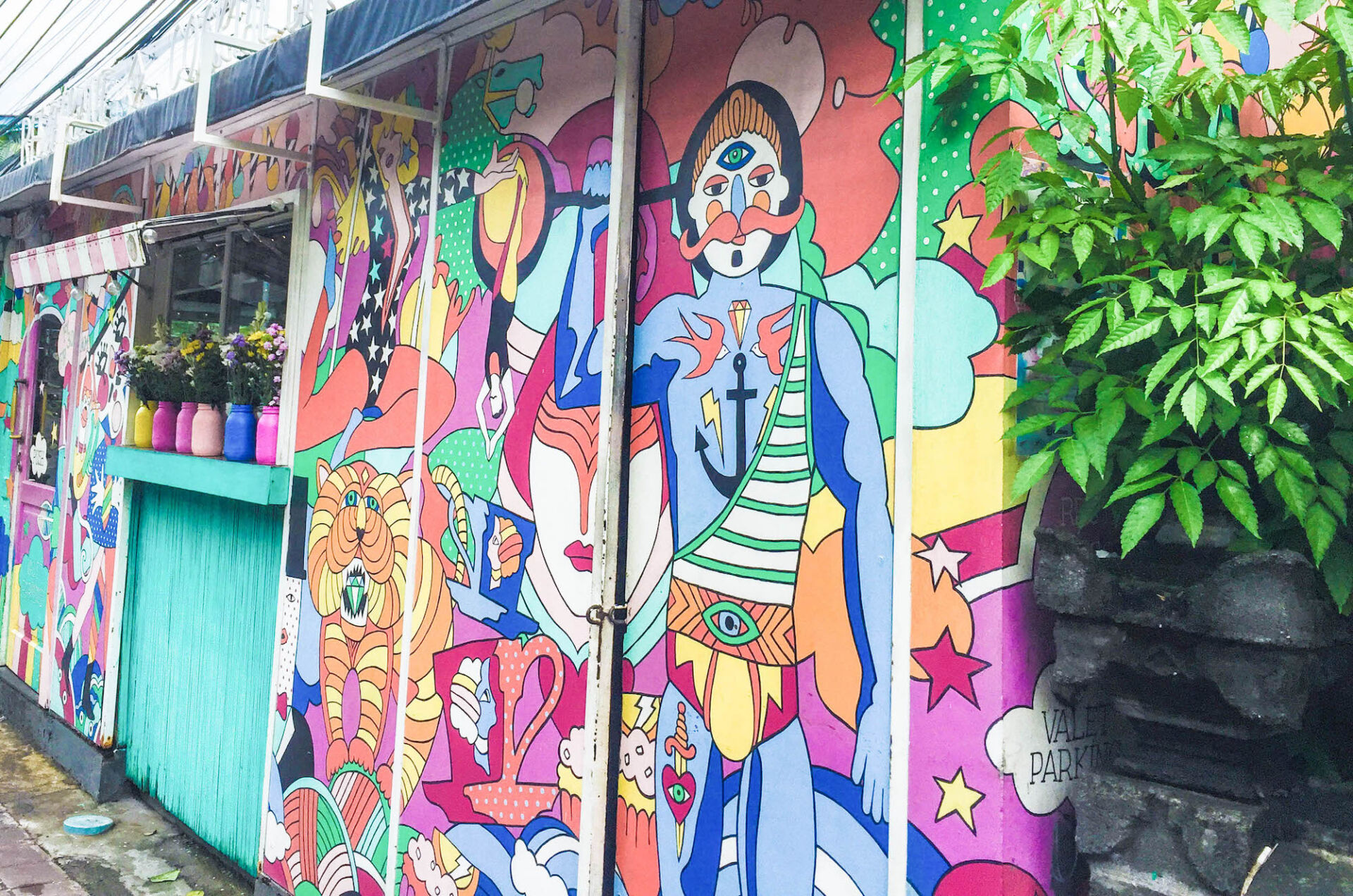 There's no way you can get bored with the restaurant choices on offer in Bali. There is so much choice, never mind where should we go, it's more like what can we fit in. With that in mind I've compiled this list of the best places to eat in Bali making your life far easier.
It's divided into rough areas so you can find somewhere to eat in the most popular destinations. There are some vegan places, some veggie places and some that offer a wide range of meal requirements. Bali is a haven of fantastic healthy food, you could spend your whole time there on a foodie tour.
South
The south, meaning the feet of the chicken. Someone we met said Bali looked like a chicken and now I find it hard not to see it that way. Anyway the south includes beautiful Bingin and Uluwatu, both worth a visit.
Bingin
We stayed in Bingin and it was an absolute dream. A quiet and beautiful beach set in a local village that is less touristy than most.
Cashew tree is a great spot to get some healthy food. Vegetarian friendly, with options that could be made vegan, the food is great and reasonably prices. There is also live music on a Thursday.
Mama Tom Tom's is a warung and homestay. Great veggie noodles and spring rolls, the beer is pretty cheap too. The view is pretty special too.
The Sun & Surf Stay We had the best Mojitos I've ever had here. A great place to hang out and watch the sunset.
Drifter – a beautiful surf shop (there's one in Seminyak too), in which I could have bought everything with a cafe out the back. A veggie/vegan menu with a bit of fish. We had coffee and juices and they were all great.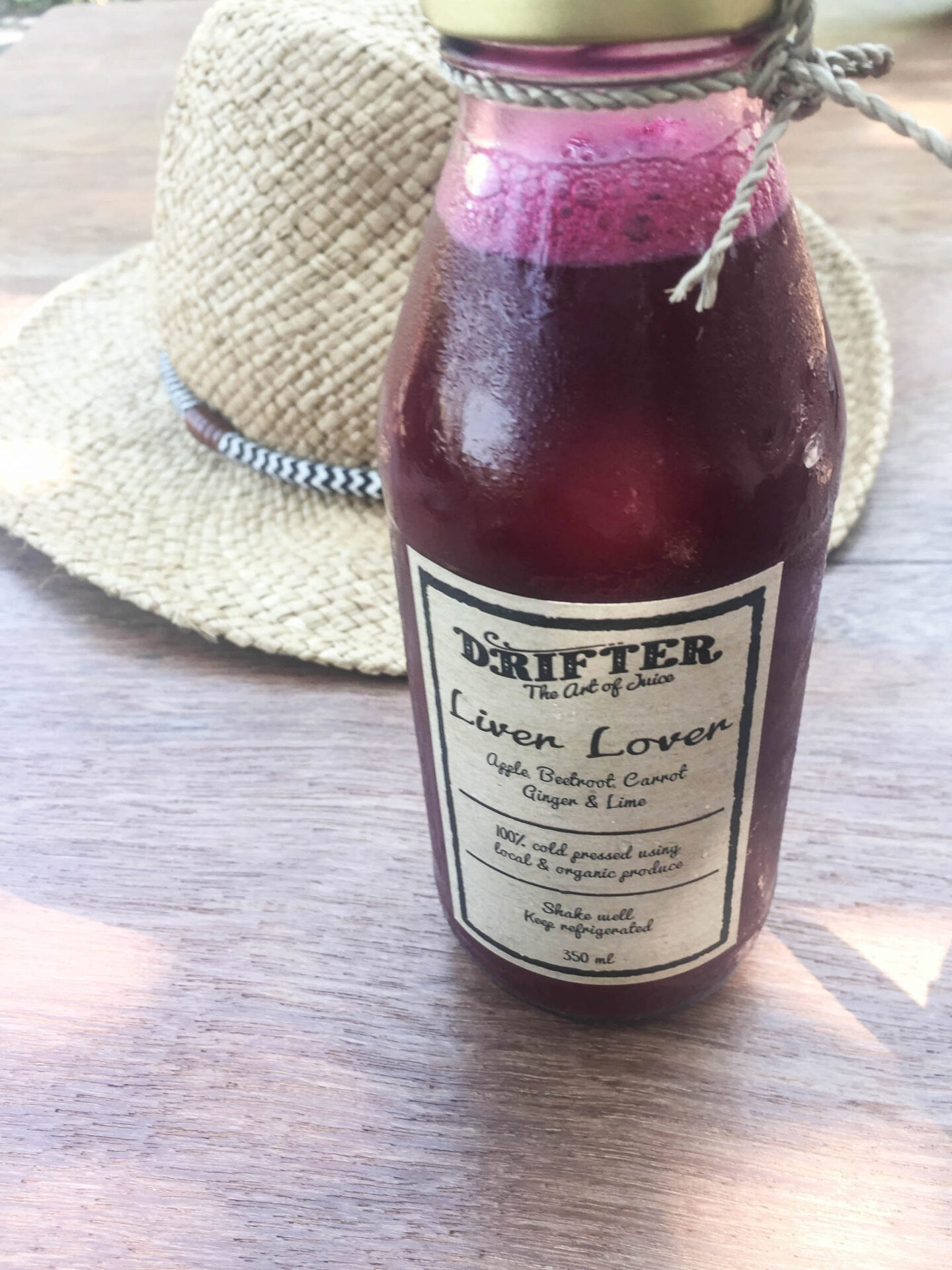 Uluwatu
Single Finn has the most amazing view, sea as far as you can see. We only had drinks here, the menu looks good, a few veggie options but more of a mixed menu, which is good if you are in a mixed group of eaters. I'd highly recommend for sunset drinks.
OM burger a delicious veggie burger, all fresh and organic. You can custom build every element, the pattie, the bun and the toppings. Just be careful of the salsa, it's hot! I ordered mine on the side – glad I did.
West coast
Seminyak
Large, busy loud and not the place to really relax but some great places to eat and drink. Seminyak is great to visit but stay a bit further out of the centre if you want a more chilled vibe.
La Laguna I've been here twice now and I'd definitely go back a third time. Great in the day or at night, would be great at sunset. Beautiful setting, quirky and excellent service. A bit pricey and not lots of veggie options but worth it.
Jungle Toppings was a discovery whilst wandering in Seminyak. A great little place that does yummy toast and toppings and great smoothies. Lovely design style too.
Motel Mexicola one of the major Instagram venues, Motel Mexicola is a colourful feast for the eyes. Lots of neon, bright colours and loud music it's not a place for an intimate dinner but it is a place to have fun. Mexican food, with veggie options, all delicious and decent tequila, what's not to love.
Grocer & Grind we went in here to get out of a torrential downpour, enjoying delicious smoothies and waiting for it to pass. A good menu with a lovely deli section to buy supplies. A good mix of options for all kinds of eating needs.
Sisterfields I loved this place. I never opt for a sweet brunch choice but the french toast here was epic. Stylish interior, full to the rafters and you sometimes have to wait but it's worth it. The toilets are also amazing!
Sea Circus Another Instagram paradise, people were waiting their turn to snap a pic of themselves outside. Great menu, beautiful interior and fantastic staff. Loved everything about this place, including the uniforms which you can buy from a shop down the road. Some great vegan options here too!
Kim Soo is a stunning interiors shop and café I wanted to buy so many beautiful items for my house but my bag was already stuffed! So many beautiful spots to snap a picture too. Lovely.
Canggu
We stayed in Canggu just 10 minutes walk from some great places to eat and drink. Staying out of the hustle and bustle really suited our family holiday. We could pick and choose when to visit the busier places but find a place to stay that had enough space.
Nook this is a big call, but it might be my favourite place we ate. The menu is good, the food delicious and the setting is special. The Nook iced coffee is a winner. Can't recommend this place highly enough.
Peloton Supershop tried to go in here and it was a long wait so went next door to the frozen yoghurt shop (below). The menu is plant-based and the food looks beautiful. The massive queue to eat is testament to how good it looked. Next time maybe…
Secret Spot Yoghurt lovely little place for frozen yoghurt. Pick your flavour and add toppings.
Crate Cafe & Motion Cafe both look amazing, but sadly we ran out of time to try them. Worth having a look at though. Healthy and varied menus at both, they cater for all preferences.
Tropicana Cafe & Churros best churros ever. No more needs to be said really but it's a lovely spot with decent coffee too!
Ubud
Ubud is full of amazing vegan and vegetarian options. We stayed in Penestanan, just outside of the centre, which had 3 of the best vegetarian/vegan restaurants.
The Elephant this is the other contender for the best restaurant I've been to in Bali. I think it just edges it due of the view. The food, I had Laksa and as a massive Laksa fan I can say this was amazing. Everyone had a different dish and everything was fantastic. The polenta chips, are still talked about today!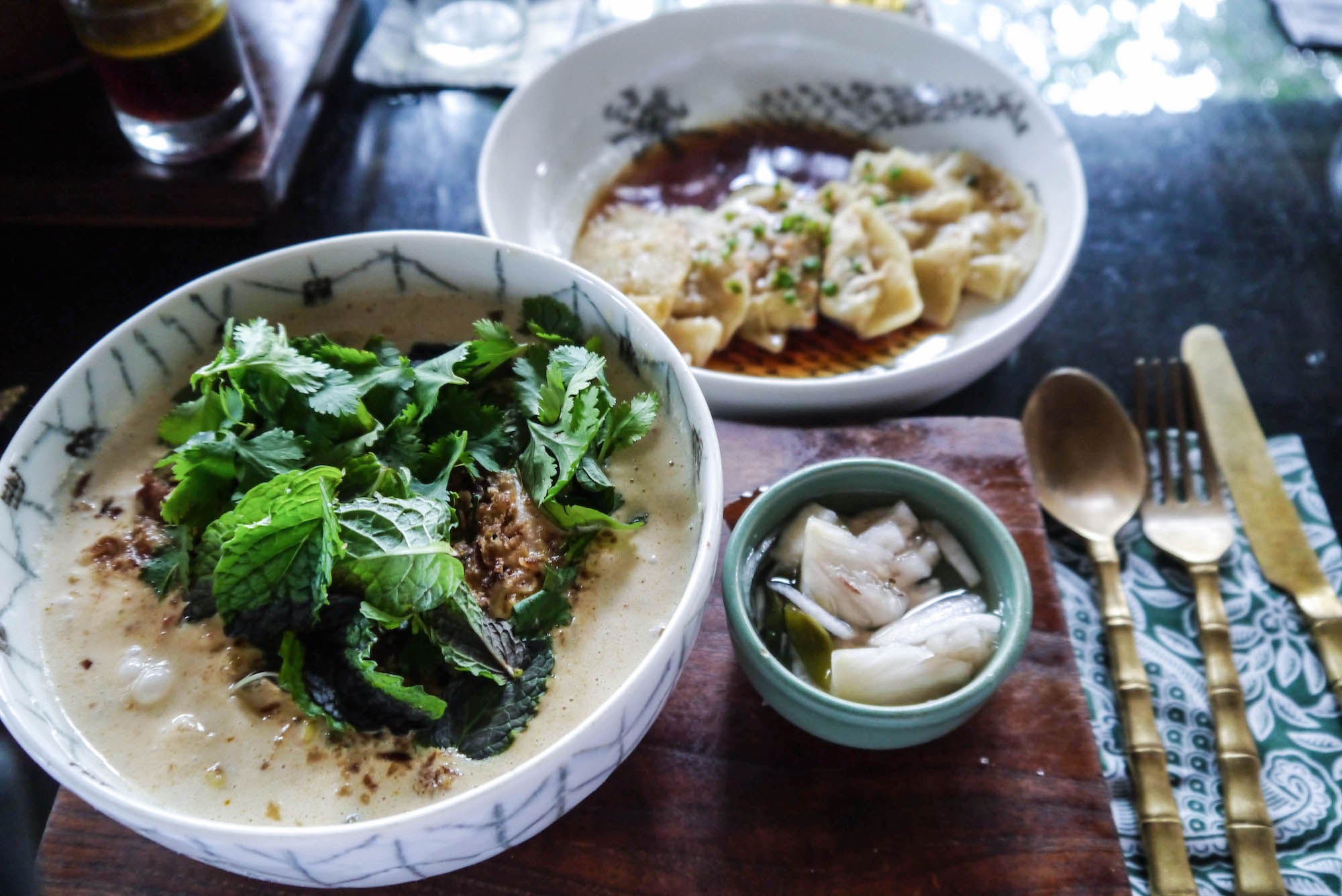 La Pacha Mama is a plant-based mexican restaurant. Yummy food, super healthy but the portions aren't huge. Lovely setting and great service.
Moksa – even if plant-based food is not your thing – you'll love Moksa. Every dish is well thought out and delicious. Another place we really wanted to go back to.
The Seeds of Life raw food café. Again lots of delicious choices and you feel amazing afterwards!
Alchemy Another great vegan place. The cakes were the best. Yes they were raw but you couldn't tell. we talked about going back everyday for them, but there were too many other places to try. Also has a great shop for alternative health supplies.
Cinta Grill & Inn is right on Jln Monkey Forest and does a mean burger. All tastes catered for, not just vegetarian here. Great atmosphere and music. They also do great rooms too.
Sambal Matah – we stumbled upon this place to get out of the rain. Beautiful inside, great menu and they give you the fried snacks below with spicy dip if you order a drink. Most things on the menu can be made vegetarian, but the menu is varied and interesting. Two for one cocktails on before 7pm.
So there you have it my favourite places to eat in Bali. Are there any I've missed? Let me know below.