The places I truly love, I never actually want to write about and Gili Air is no different. I want to keep it a secret, not tell anyone else about it because I loved it, just the way it was. I went out of season; in fact at the beginning of the wet season, it was the perfect level of busy and glorious weather. None of the legendary sunsets but you can't have everything!
I was a little concerned as I'd met a couple who had said they thought it dull, not enough to do, and asked if I had a good book as was going to need it. I also had a less than positive experience in the boat office. After purchasing my actual ticket the correct way (more on this later) some guy started chatting to me all friendly and tried to up sell me, to the fast boat for 5 times the actual price. Luckily I caught him in a lie and didn't fall for the trick. There are lots of people trying to earn a quick buck around the jetty/ terminal, you can't blame them, but just be aware. My gut told me this guy was trying to rip me off and it was right, so if something feels off, it probably is.
Getting to Gili Air
There are two common ways to get to this beautiful place, boat from Bali or fly to Lombok then travel up to the jetty. I opted for the later, doing a day of seeing some of the highlights of Lombok. I had stayed the previous night in the south of Lombok and met a reliable, honest driver who was my guide. Again the airport is full of people trying to make money, so having a transfer organised is a good idea.
Boat to the Gilis – the correct way to purchase a ticket!
Go to the small wooden hut behind the brick boat office (with the sea behind you it's in the far left corner on the edge of the beach). Purchase either a fast boat ticket (around 80,000 Rp) or a passenger ferry ticket (around 18,000 Rp).
I initially purchased the passenger ferry ticket, looking to save cash, but later went back to the same hut and upgraded to the fast boat. I did this as the passenger ferry will only go if there are 40 passengers and the last fast boat of the day is 16.20. At 15.45 there were only 20 people waiting so I could have been stranded in the jetty for the night. As I was travelling alone I didn't think it worth taking the chance. It's a 5 minute crossing to Gili Air and return tickets can be bought in the ferry waiting area for your return.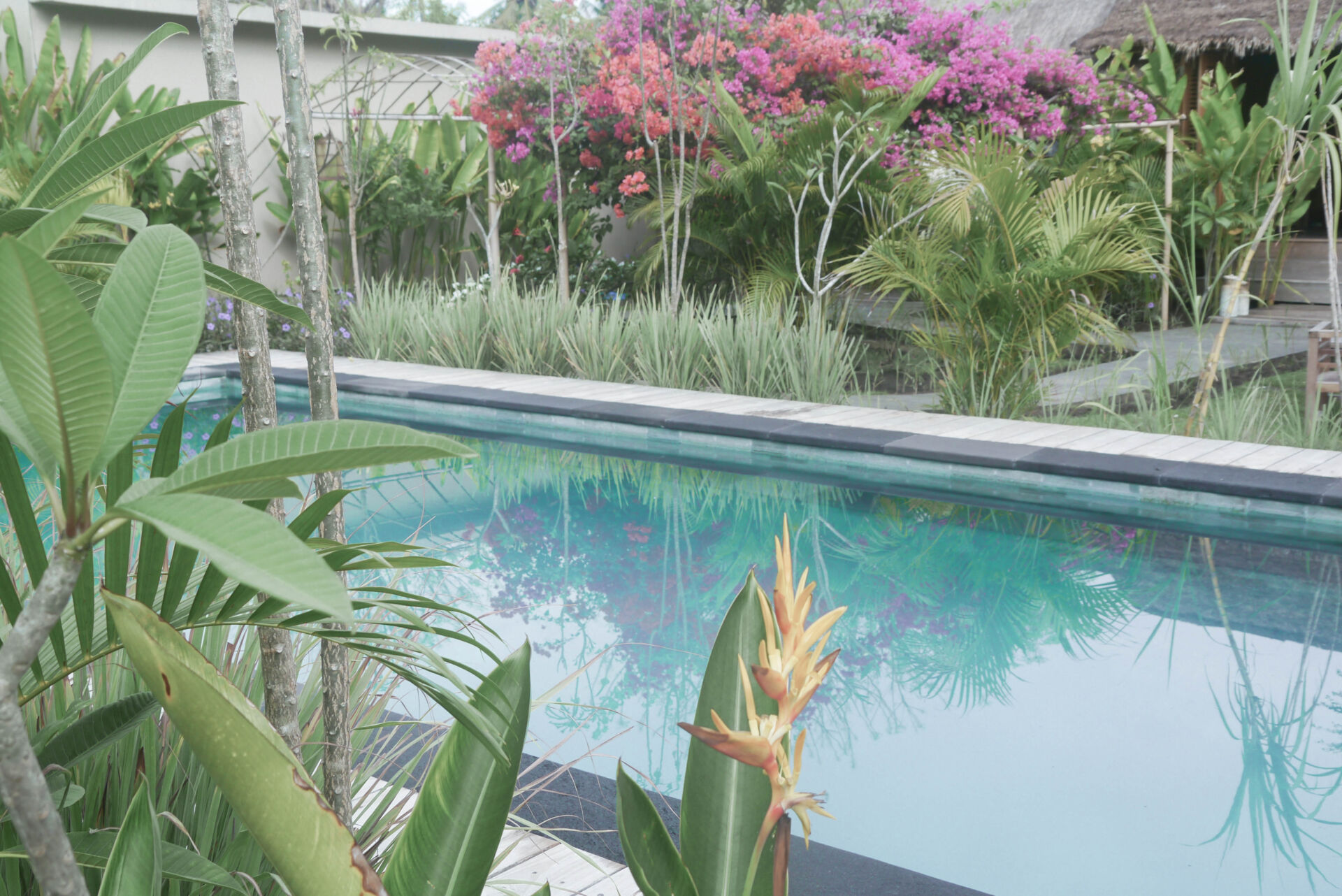 Where to stay
The boat was quick, the island small and the rain had stopped so I decided to walk to my hotel. My hotel was in the middle of the island, meaning it was quiet, peaceful and a haven. It was one of the nicest places I've ever stayed, the service, the staff, the breakfasts and the room – all amazing. Manusia Dunia Green Lodge and Gili Air is the perfect match, I will be going back.
What to do
The only permitted 'traffic' on the island is horse cart or bicycle. So I hired a bike (50,000 Rp) spending my first day riding around the island. Exploring, stopping at beaches and cafés. The island is small enough, about 5k perimeter, so it doesn't take long to see it all.
I spent my second full day walking the interior roads, finding secluded beach spots and little cafés down back streets. The sunset is breath-taking apparently. It was too cloudy for me but I still loved the famous sunset bars where large Bintang is reasonable and the view is second to none for me.
Sea activities are what the Gilis are known for; snorkelling and diving are apparently amongst the best in the world. Surfing is also supposed to be excellent, I must say I was tempted. No sea activities for me though, as I was on a budget and decided to save my adventuring for when I return to the Gilis.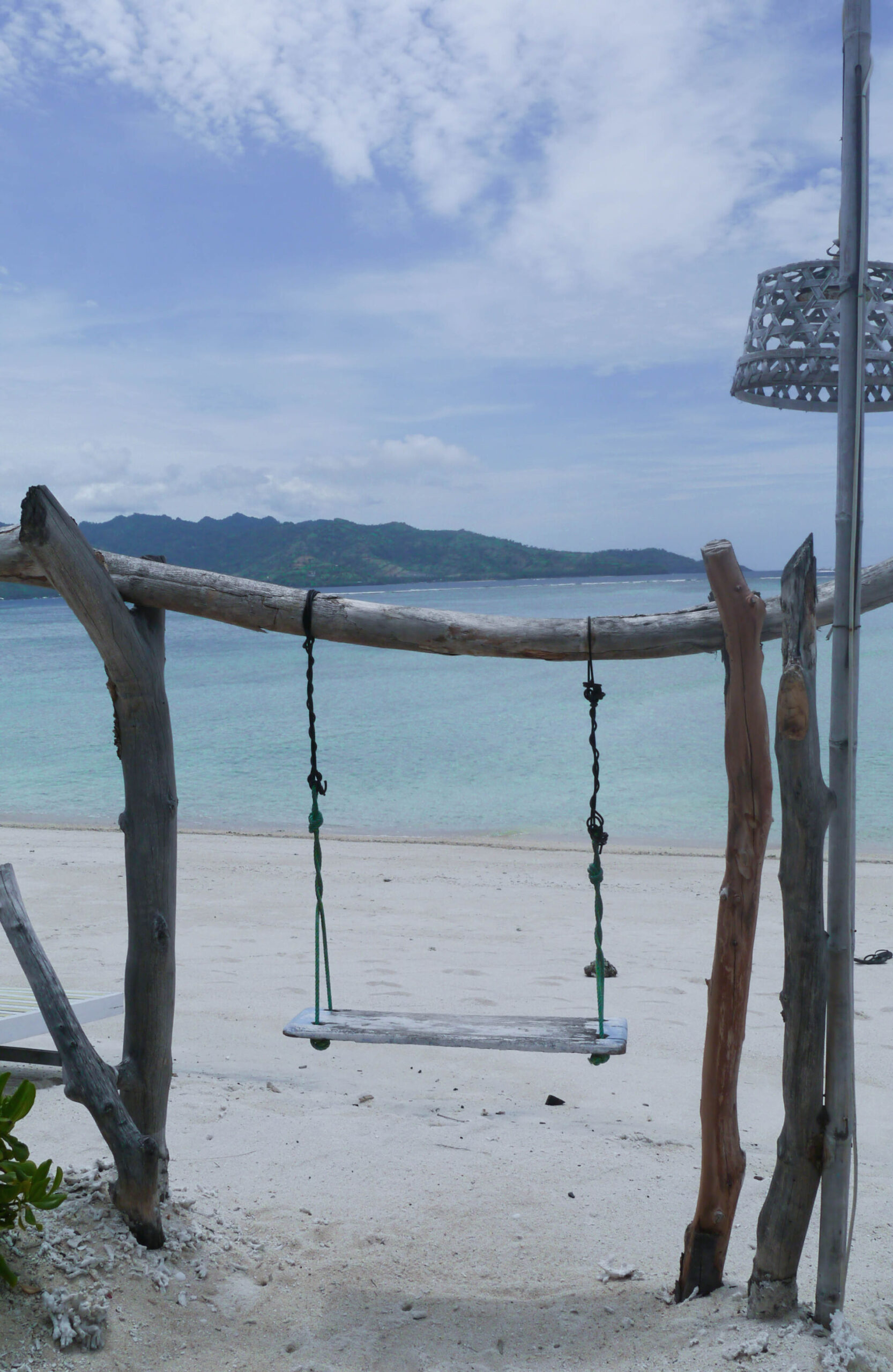 If you fancy getting off island you can take a boat trip to other Gilis for a few thousand Rupiah. Meno is supposed to be even quieter than Air and Trawangan is the party island.

Where to eat
For a small island there are lots of places to eat. I went armed with recommendations but unfortunately I got a bad bout of Indo belly. So my dreams of amazing food were dashed, as plain white carbs was all I could stomach. I did eat out a couple of times both were excellent.
Scratch; all food is made from scratch hence the name, was just what I needed. A beautiful view and healthy yummy food, what more could you want. The homemade ketchup is delicious! The other place I tried was Classico Italiano. The reviews made this a must try for me and I did not disappoint. A lovely setting; long benches and soft lighting with perfect pizza.
Other places I wanted to try were Pachamama, The Mexican Kitchen, Ruby's Cafe, Coffee & Thyme and Breadelicious. A list for next time!
I absolutely loved Gili, not too quiet for me, just right and I barely read my book! Peaceful with enough beautiful vistas, activities, restaurants, sunset bars and inviting beaches.