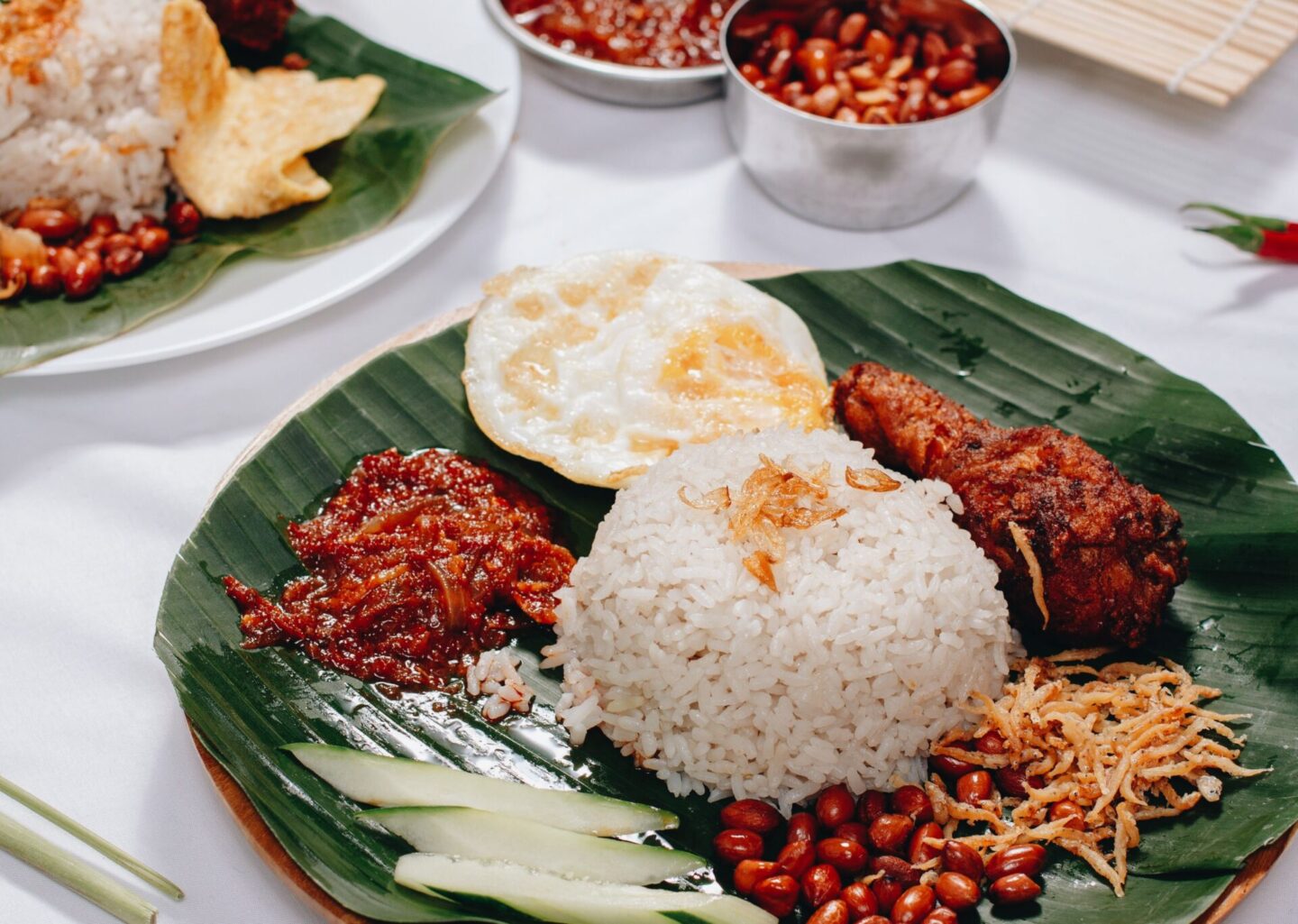 There's a reason that Nasi Lemak is so loved by Malaysians. The sweet, spicy sauce with crunchy peanuts, egg and coconut, pandan flavoured white rice is unbeatable in my eyes.
Since living in Malaysia I love the smell of rice. There is something so satisfying about the smell of cooking rice, especially the jasmine variety. I could eat any time of day, but breakfast is by far my favourite and I love it with a spicy sambal and an egg.
It is sometimes served with fried chicken or a veggie alternative, my favourite was the monkey head mushrooms in a spicy sambal. A type of mushroom that is very common in KL but virtually impossible to get here.
Not the healthiest dish, so go easy on how often you have it, but you have to try it. The key is the rice, infusing it with coconut and pandan. The sambal can be bought to make things easier, but I like to make my own. A Rendang sauce will also go very well with this.
Nasi Lemak Recipe
Ingredients
Nasi – Rice
2 cups white rice – I use jasmine as I love it!
1 can coconut milk
4 pandan leaves knotted at the centre point
2 lemongrass stalks bruised
1 tsp salt
1 cup of water, add more if needed whilst cooking
Sambal
6 shallots sliced
1 garlic clove minced
10 dried chillies soaked in hot water for 10 minutes
Pinch of salt
1 tbsp sugar
2 tbsp oil (ground nut/coconut or rapeseed)
Extras to serve with
½ a cucumber sliced
2 hard boiled eggs cut in half
Banana leaves to serve on (not important but look great!)
1 cup of unsalted peanuts
1 cup of ikan bilis (dried anchovies) these are optional in my opinion as I am not a huge fan.
Serves 4 prep > 30 mins Cook > 30mins
Wash the rice for approx. 5 mins, the water should run clear.
Add the coconut milk, water, lemongrass and pandan to a large pan. Add the rice and put a lid on it. This should cook for about 20 mins, whilst you wait you can make the sambal.
Add all the ingredients to a food processor or pestle and mortar, blitz or grind to a paste.
In a frying pan heat the oil and add the sambal paste, cook for 5 minutes on a gentle heat being careful not to burn it.
In another pan gently toast the peanuts until golden, they can burn easily so watch them.
After the rice has been cooking for 15 minutes check it, it should be light and fluffy, if it needs longer or more water add it and check again in 5 minutes.
Once everything is ready it's time to assemble. Use a small round dish to form the rice into mounds and place the other bits around it.