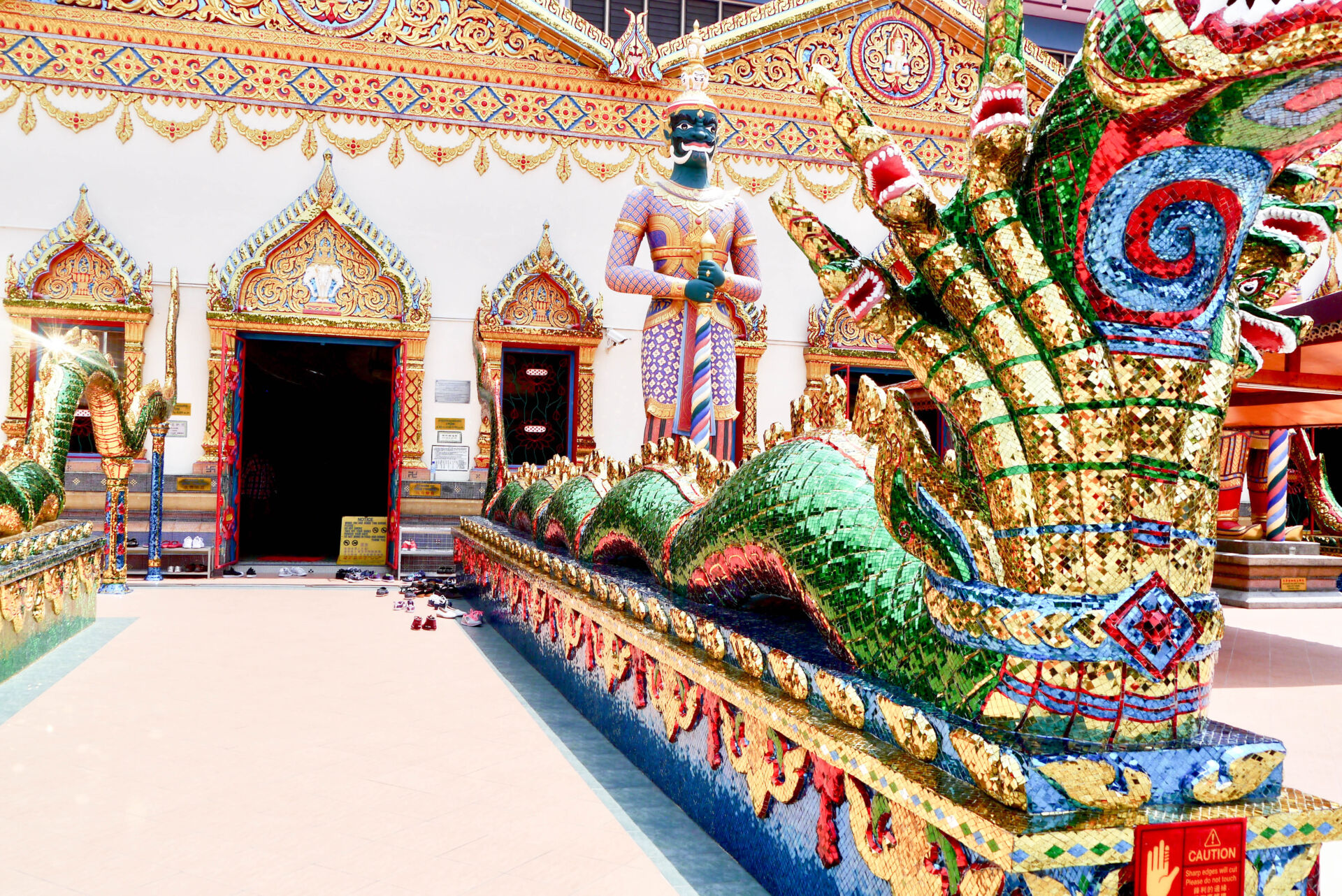 Everyone raves about Pinang as its pronounced here. 'Oh the food!', 'You can't be on a diet in Pinang' (can I just point out I don't believe in diets) and my favourite 'You can get the best… (Insert every food known to man) there' are amongst the phrases I heard when mentioning Penang.
And I hate to disappoint but they were right. The food is amazing, you certainly can't be on a diet, if you believe in them, and you can get pretty much every type of food there.
How to get there
You can take a quick flight from KLIA2, around an hour and frequent. Some people drive, taking the scenic route through the highlands or Ipoh and others get the coach. It goes from TBS, not as quick as flying but super cheap.
Where to sleep
We stayed at the Tropics Eight Suites and whilst clean, new and good it was a little far out-of-town for us. It was however handy for the Penang Botanical Gardens and to get to the northern beaches, so it depends what you want to do.
Next time we go I want to stay in a traditional shophouse turned hotel. We stayed in a traditional hotel in Langkawi, similar to the Seven Terraces and it was divine. Seven Terraces looks just as beautiful and has a pool for cooling off after a day of sightseeing.
Muntri Mews and You Le Yuen are also shophouses which also look amazing and are a little cheaper! Both have the traditional decor and stylish interiors I love in a hotel, plus the reviews look good. Win, win!
If its colonial opulence you are after The Eastern Oriental gets my vote. On the beach, with pool and stunning rooms and if you're lucky you might get an incredible sunset.
Where to eat & drink
So the food, I'm afraid I didn't document it as thoroughly as I could have but I did go with a list of foods to try.
The best place to try lots of different foods in Malaysia tends to be a food court – a place usually with plastic chairs and tables that has lots of stalls selling different foods and you order whatever you like, The Red Garden Food Paradise is just that.
Penang provided my first experience of char kway teow and from that moment I was hooked. The thick ribbon noodles with a richness that made me want to just keep stuffing it in my mouth. Hokkien Mee, a delicious noodle dish that certainly packed a spicy punch.
Cendol, was the perfect end to the meal. a flavoured ice desert with red beans, rice jelly noodles, coconut milk and palm sugar was top of the list and did not disappoint. A cool, refreshing dessert that had a yummy sweetness and an interesting combination of textures.
We were tempted into Via Pre by the welcoming staff whilst looking for somewhere else. We sat at the bar and shared various delicious boards of food over wine (at a decent price), finishing it all off with affrogato and lemonchello.
Another excellent find was to Bistro Tang where we found a stylish interior, great food and refreshing juices.
We found a place that we absolutely loved, so much so we went back twice during our stay. China House was a great mix of old and new in a traditional long shophouse, that spanned between two streets.
Two separate and totally different bars, a cafe serving lunch and amazing cake, a restaurant and a courtyard, not to mention a shop upstairs selling beautiful local goods. We had lunch on the last day, cases in tow, and it was the perfect end to the Penang trip.
Where to shop
The China House also have a lovely little shop a few doors down – 179 The House. Selling lovely housewares and antiques, I could have bought quite a few items if only we had more luggage space.
Sixth Sense, the shop next to the China House was also beautiful, everything was 'instagramable'. I couldn't resist taking a few pictures of the interior (I asked permission first, being a rule following kind of girl).
What to see
Food is not the only thing about Georgetown. It is full of wonderful sights; from the street art to the temples there is a feast for the eyes. We got about on bikes, we used a new company called LinkBike that you can download an app to use, super convenient, reasonable and a great way to get around, plus they are super stylish.
The Temples were beautiful and serene for such a popular place to visit. Penang boasts the largest reclining Buddha at Wat Chayamangkalaram, amongst other amazing statues and shrines.
The two Buddhist temples we visited are opposite each other on the same road and easy to locate. The Sleeping Buddha as it's called, is breathtaking, surrounded by thousands of Buddha's, in tiles and statues, I was fascinated!
The temple opposite is a Burmese Buddhist Temple called Chùa Phật Dhammikarama Bủmese and is equally beautiful. In large grounds, with beautiful gardens it is a place to wander around and explore with a stunning central Buddha.
The street art is abundant in Georgetown, you can turn a corner and find something. There is a great walking tour, you can even download a Google map with all the art listed, it has pictures too, so you know what to look for.
Georgetown was fantastic, we really loved the mix of heritage and new. Amazing food, botanical gardens, temples and beautiful examples of architecture, what more could you want!