Malaysia, Truly Asia couldn't be more correct. The beauty, the culture, the food and the traditions make this wonderful country a must visit. It's a popular stopover as the flights are usually cheaper, but I urge you to do more than just stopover, take 10 days to experience this rich country and you will not be disappointed. Here I recommend places to visit in Malaysia the places I've been, loved and wanted to go back to.
There is so much to do from seeing the big city, sitting on secluded tropical beaches to eating some of the best food you'll ever taste. Malaysia is full of amazing experiences, ones that I'll never forget.
The Lake Gardens
Start in the capital city. Get up and out early before the heat really kicks in and head to the beautiful Perdana Botanical Gardens or Lake Gardens, a 227 acre park with something for everyone. With a bird park, butterfly park, orchid gardens, ASEAN sculpture park and many paths to wander around you could spend hours just in the gardens. Head outside of it though to find the National Mosque, Islamic Arts Museum (a favourite of mine) and Muzium Negara, The national museum of Malaysia.
Get There – easy to get to from the centre, either download the GRAB taxi app, which can be used all over Malaysia, or use the MRT to Muzium Negara and walk the rest of the way. When you get to Muzium Negara instead of going inside go around the left (as you are looking at the front of the building) and walk through a tunnel which leads to the lake. I use the Moovit App to help with getting around KL, it's amazing!
Central Market, Chinatown & Brickfields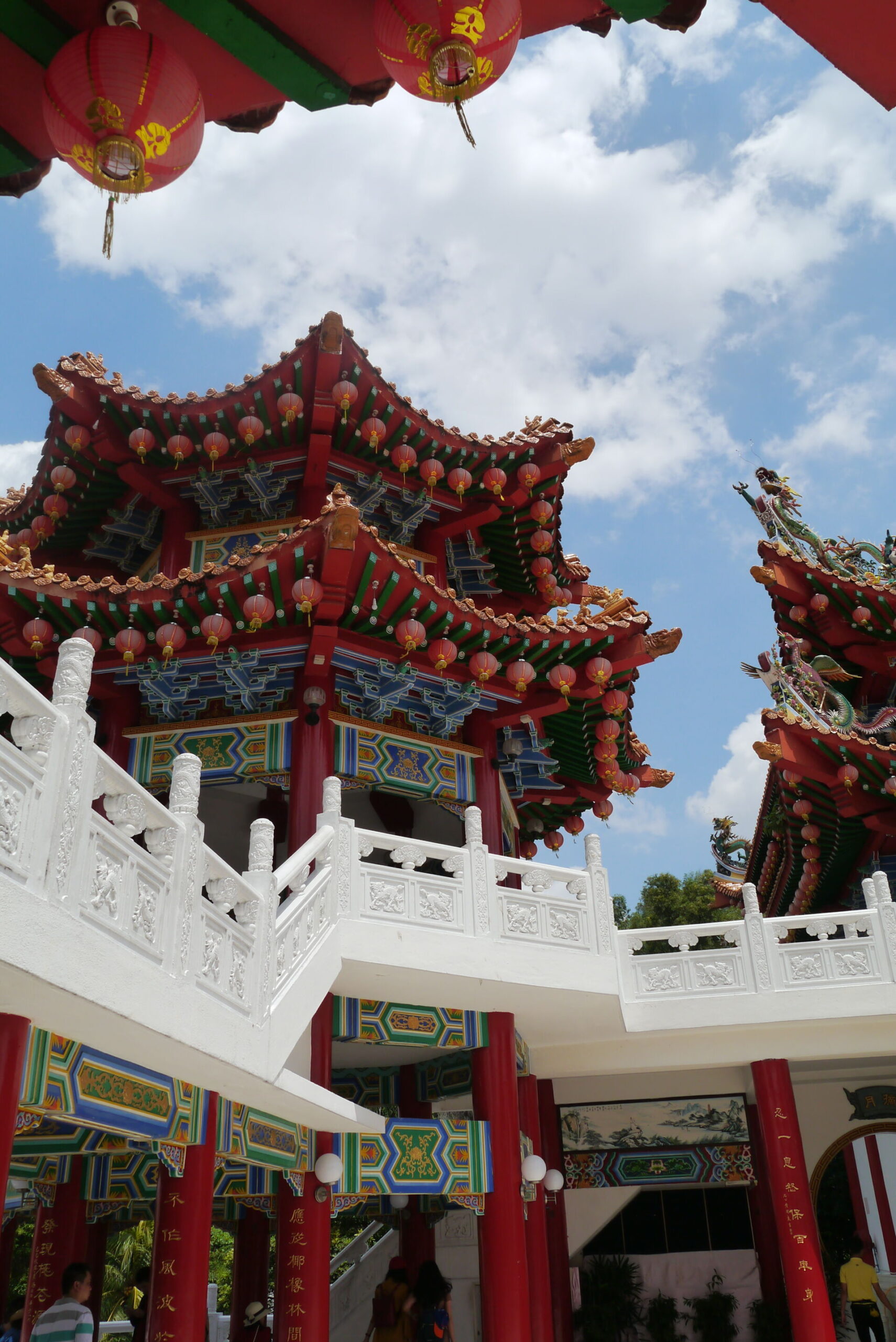 Wander around Central Market and Chinatown at night, when the lanterns are lit and the atmosphere is lively, to collect souvenirs. For food my favourite places are YU Noodle Cuisine, Old China Cafe and Precious (upstairs Central Market). The Geographer is a great place to get refreshments.
Get There– Three ways from the centre, the free bus (GOKL) from Bukit Bintang, the MRT from Bukit Bintang or the LRT from KLCC, all to Pasar Seni.
Brickfields is another amazing area to wander around. The temples, restaurants and shops are full of people all hours of the day. A great place to get the famous Banana Leaf Rice is Vishal Food & Catering – yummy!
Get There– Take the LRT from KLCC to KL Sentral. Exit the shopping centre on the ground floor and turn right, its in front of you across the road.
The Towers & Shopping Centres
I am obsessed with the towers, all of them. The sparklyness of the PETRONAS versus the view from the KL tower, it's very hard to pick a favourite. But based on View the KL Tower wins hands down for me. A great place to see where you've been and see just how big the city is. If you're not afraid of heights, go to the Skydeck, it's worth the extra money.
Get There – Take a GRAB, there is a very long steep hill at the entrance.
Go see the KLCC park fountains light show at 19:00, 20:00, 21:00 & 22:00 every night, only lasts a few minutes but worth seeing. Combine it with a trip to see the PETRONAS towers at night.
Pavilion Shopping Centre is well worth a visit. Always busy and across 6 huge floors. Home to some of the most exclusive shops and restaurants, the supermarkets in the basement are also worth a gander. My favourite bit – Daiso ( Japan's version of a £1 shop) and Tokyo Street – lots of independent shops selling Japanese favourites.
Isetan the Japan Store this is my favourite shop in Kuala Lumpur. Part shop, part art gallery it's effortlessly chic. I love to go here and get coffee on the 4th floor and look at the books. It's also home to one of Nala's stores. I love the heritage, prints and colours of her designs.
Culture & Temples
Batu Caves, Thean Hou Temple and Masjid Jamek are all excellent and represent some of the major religions of the country.
Batu Caves is wonderful, easy to get to from KL Sentral and worth the steps to see inside the cave. I especially liked the cave around to the left from the end of the train station walkway. You have to pay a small fee but it tells the story of Rama and Sita and is quite beautiful.
Thean Hou is a Buddhist Temple on a hill. Always stunning, I especially like the view from it, but at Chinese New Year it is lit with hundreds of lanterns and can be seen from miles away.
Masjid Jamek is the Mosque near Merdeka Square. From here you can walk over the river on the new bridge and see the stunning architecture of Merdeka Square. There is a Kuala Lumpur City Gallery (you can get your I <3 KL pic outside here), The Royal Selangor Club and The Textile Museum, which I loved.
Alternative KL
There are plenty of events on in KL, it's worth checking Time Out for what's on whilst you are here. My favourite things are local craft markets or pop up food stalls. Urbanscapes is a great month-long event combining all the best things about the city and Riuh do monthly events at APW, well worth a visit.
For more on Kuala Lumpur click here… Kuala Lumpur
Is the easy to get to, be on the beach in a few hours destination, no negotiating boats and difficult travel arrangements, just get to the airport and your done. Grab works there too, so no need to worry about getting to your hotel either. Langkawi has so much to offer and I have only seen one-quarter of it. I always opt for Cenang beach as its close to the airport, is beautiful (walk away from the crowds and be on your own stretch of beach) and has lots of great beach bars.
The north-west of the island has more jungle and monkeys. We stayed in a jungle hut at The Berjaya once and it was perfect. There are waterfalls, cable cars, sky bridges and it's duty-free, meaning cheap chocolate, booze and goods. This does not make it lairy or boozy from my experience though!
Other islands you could consider are Perhentian – dive paradise but you need to get a boat from the mainland. Langtengah (the header image) is a secluded island with a handful of hotels and scenery like nothing you've ever seen. Again it requires a boat, but it is beautiful.
For a more detailed post on Langkawi click here… Langkawi
I loved Penang, George Town to be specific. Full of Nyonya culture and food, home to the largest reclining Buddha and streets full of beautiful shop houses, it is beautiful. The food is the reason everyone raves about it, and yes it is amazing but I loved riding around the city on my bike exploring the back streets and spotting the street art. It's on everyone's list and it's easy to see why.
You can also take the ferry from Langkawi to Penang, if boats are your thing!
For a more detailed post on Penang click here… Penang
Melaka surprised me. Most things you see about it are the Dutch Square or Jonkers St and not much else, but it was full to the brim with places to go and things to see. A great size to wander around foot and a little cooler because of the river running through it. It is the perfect 2 night getaway.
One of the best things; you can get there via a luxury coach in around 2 hr's for 13RM. KKKL had good coaches, were on time and you can book online.
or a more detailed post on Melaka click here…Melaka
Malaysia is full of amazing places to visit, in 10 days you'd struggle to see enough. But with these destination ideas you will definitely get a sense of why the Malaysia is so special.
Each destination has a more detailed guide, see the links below, bonus link is my favourite places to eat and drink in KL.