Hong Island is widely considered to have the most beautiful beaches in Thailand. And once you've been you can see why. Hong Island is actually a group of four islands also known as Koh Hong and Hong Lagoon.
The water is crystal clear, as blue as I've ever seen. Hong Island beaches are fine white and relatively un-crowded. Yeah, there are other people there enjoying it but I didn't find it crazy or unpleasant. I loved it. There are hidden coves and beaches where you can be on your own at times!
Hong Island – Where is it?
Hong Island is not far from Ao Nang beach in Krabi and can be accessed easily from there. It is also accessible from Phuket and Phang Na.
You can arrange a trip or private tour anywhere in Krabi and Phuket, there are plenty of tour companies, they all offer pretty much the same thing at pretty much the same price.
Another way to do it is to charter a long tail boat from the beach. They are on a first come first serve basis and should cost around 2500 Baht per boat. As Hong Island is part of a national park you may need to pay an extra 300 Baht per person for entrance on top of this. Boats start at 8am and run until 4pm.
We actually took a tour as it was easier than the prospect of trying to arrange it ourselves. If I was going again I would definitely charter a boat. The thought of getting more time on the beach and freedom is very appealing.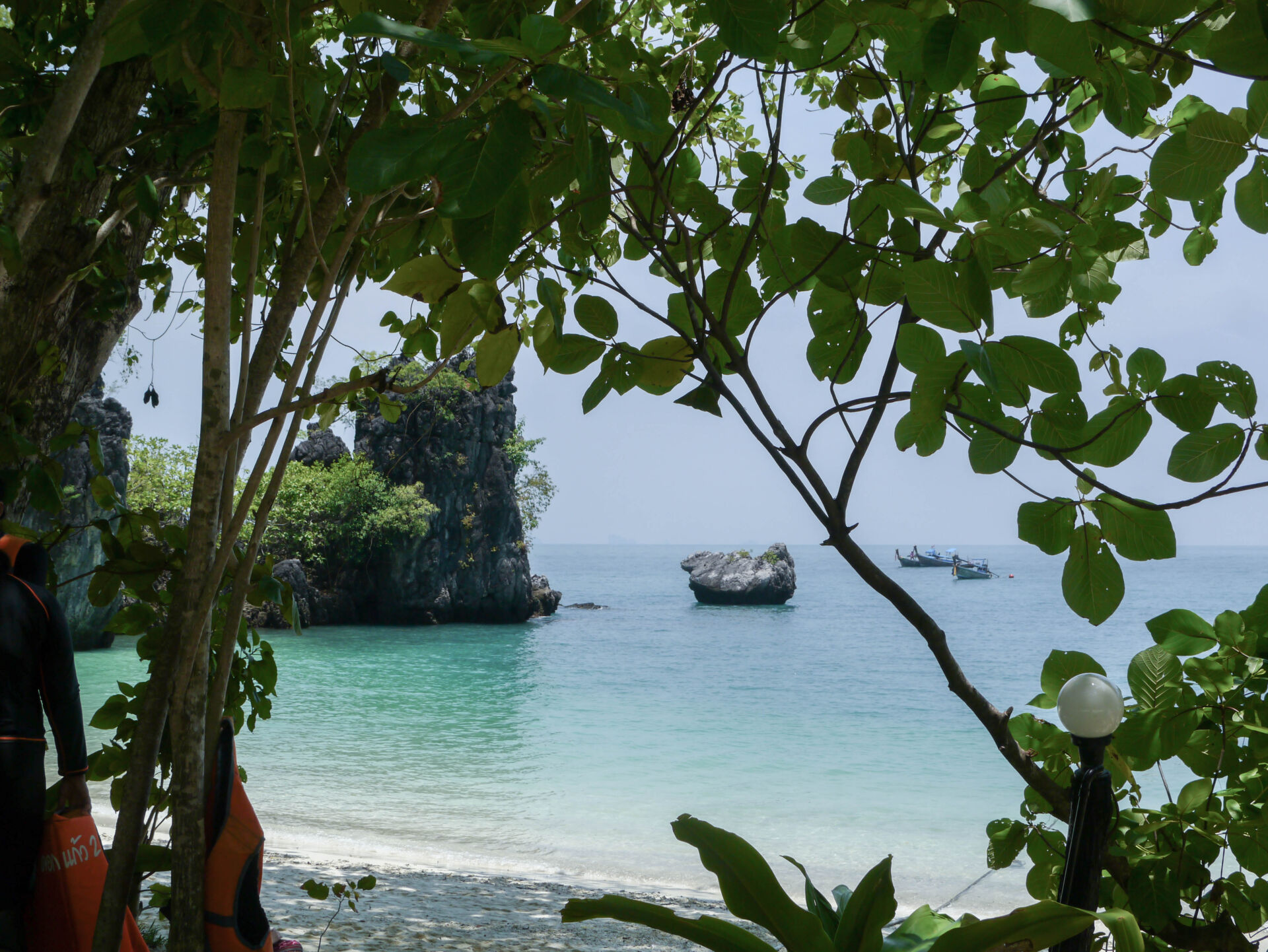 My Hong Island Highlights
The blue lagoon above was just stunning. Such a deep aqua blue and totally dreamy, perfect for a swim. Swimming in the bay off one of the most beautiful beaches. Just relaxing with a book. I really was one of the most beautiful places I've been.
Tips for enjoying the Hong Islands
Take food and water, a lot of the tours come with lunch, so check. There is a shop and restaurant on the largest beach, but you might not go here until the end of the trip so make sure you go prepared.
Make sure you wear lots of sunscreen, take a hat and find shade in the midday heat. No one wants to be stranded on an island with sunburn!
I'd recommend waterproof bags for your valuables – just incase to drop something.
It is about an hour on the boat from Krabi so if you suffer with motion/sea/travel sickness maybe wear the bands or take anti-sickness medication.
Oh the Hong Islands, a perfect paradise. I loved it, I hope you do too!