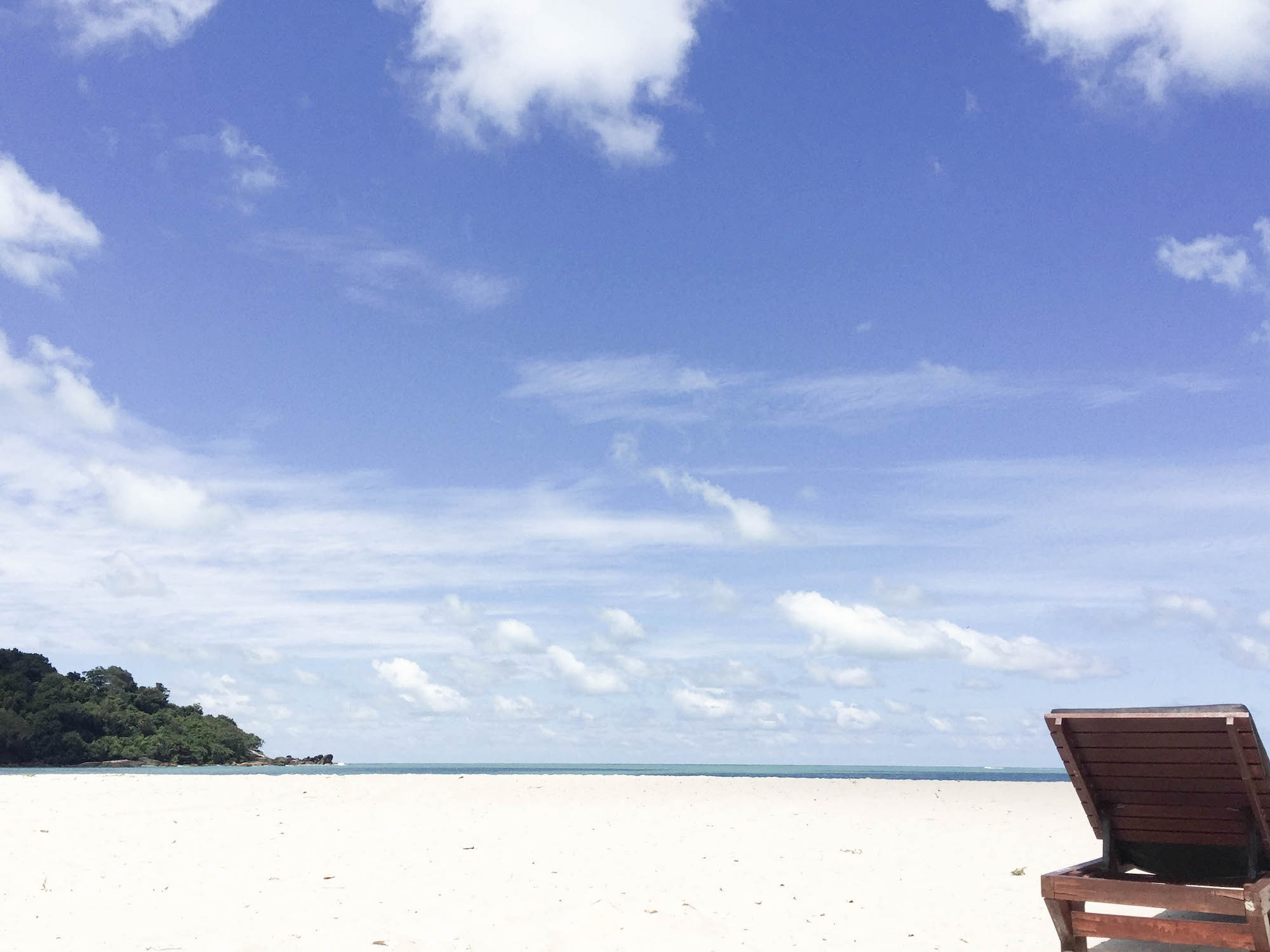 I am lucky enough to call Langkawi my weekend getaway place. I remember the first time I went – I saw the most spectacular sunset in the deepest purples and I was in love. An archipelago made up of 99 islands on the west coast of Malaysia, very close to the Thai border. With its white sand, blue sea, waterfalls and jungle, it is absolutely stunning.
I have been here quite a few times but always stick to the same area – Cenang Beach. It is the more populated area, full of bars and restaurants to watch the sun go down. Its vast stretch of white sand pulls me back every time. There is so much to explore on the island, one of these days I'm going to hire a car and see it all. The problem is it's so relaxing there I never want to move!
How to get there
From Kuala Lumpur its very easy to get to Langkawi by air, it takes around an hour and flights are regular. For more info on flights use this link – Skyscanner
There is also a ferry that not only goes to the mainland but some go to Penang and Thailand, meaning Langkawi is a great part of a longer trip.
Where to stay
The best budget place by far is The Malibest. It's right on the beach and super cheap. Book a beach front hut or treehouse as these are the best.
We have also stayed at the Berjaya Langkawi Resort. An amazing resort with huts on stilts in the jungle and over water huts near the beach. Right in the middle of the jungle with its own private beach, there is wildlife everywhere. The food is excellent, it offers 4 different restaurants, the restaurant Thai on the sea with fantastic.
The best hotel I have stayed at on Langkawi is Temple Tree at Bon Ton. Its colonial style buildings and beautiful setting is wonderful. There are two restaurants serving very good food and lots of friendly cats to stroke, they also run the islands only animal rescue centre.
What to do in Langkawi
I love Langkawi as it is a place to relax for me. Get coffee, read a book, swim, lay in the sun, these are my Langkawi pursuits. However Langkawi has so much to offer on top of a great place to top up the tan.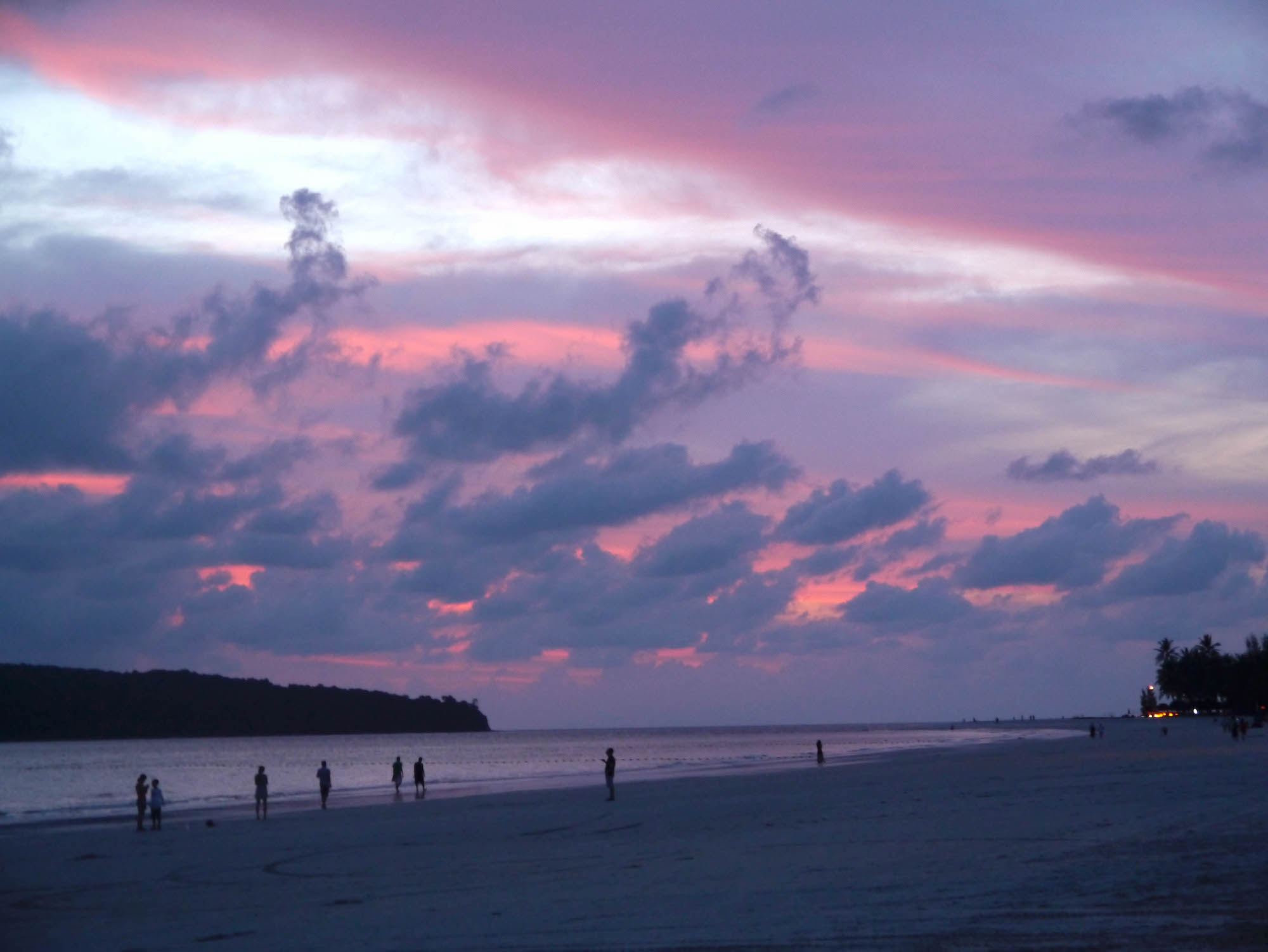 Beach hunting – Langkawi has lots of incredible beaches. Quieter, more picturesque than my trusty favourite Cenang can be found with a car or bike and a sense of adventure.
Water sports – Cenang is a popular water sports place, but Langkawi is also famous for its dinghy sailing, they held the ASEAN games sailing in Kuah.
Pulau Payar Marine Park – This has to be part of an organised trip as it is a conservation area and is said to have amazing coral.
Underwater World – A dome filled with sea life, with a tunnel you can walk amongst sharks and octopus.
Telaga Tujuh Waterfalls – The seven waterfalls. Make sure it's not dry season when you go as it may be less impressive!
Hike Gunung Raya – If you are feeling energetic or need to walk of the all you can eat hotel breakfast this might be for you. A 4 hour trek leads to a view across the sea, best to go with a guide who can lead and explain the nature around you.
Wildlife spotting – This goes hand in hand with the above but can also be done with little need to get off the beaten track. Just driving around or sitting at the beach you can see eagles, macaques, dusky leaf monkeys and hornbills.
Island hopping – see some of the 98 other islands in the archipelago.
The last two are for those who love a high up view – the sky bridge and the cable car. Both offer amazing views around the island and out to sea. Make sure you check the forecast before venturing out though, low visibility will make the view less impressive.
Where to eat
I have a few favourites. The Yellow Cafe, right on the beach, decent food and great smoothies. I like the mango one with a bit of rum in it!
Indian Palace great Indian food and the place downstairs isn't bad for lunch either.
Red Tomato is my favourite place. A great selection of meals, lots of veggie options and good coffee.
Okid Ria Seafood restaurant is always packed as the food is great. Good Chinese staples and excellent fish, the black pepper prawns are excellent.
The last two have been recommended to me, ones to try when I go next. The Pizza Maker, self-explanatory and Smiling Buffalo Cafe, a brunch type place with good coffee so I'm told.
So Langkawi, an archipelago of beautiful islands. The main island has so much to offer and is one of my favourite places in Asia.
To see other Malaysia highlights check here, it includes, Melaka, Penang, Kuching and places to eat in KL