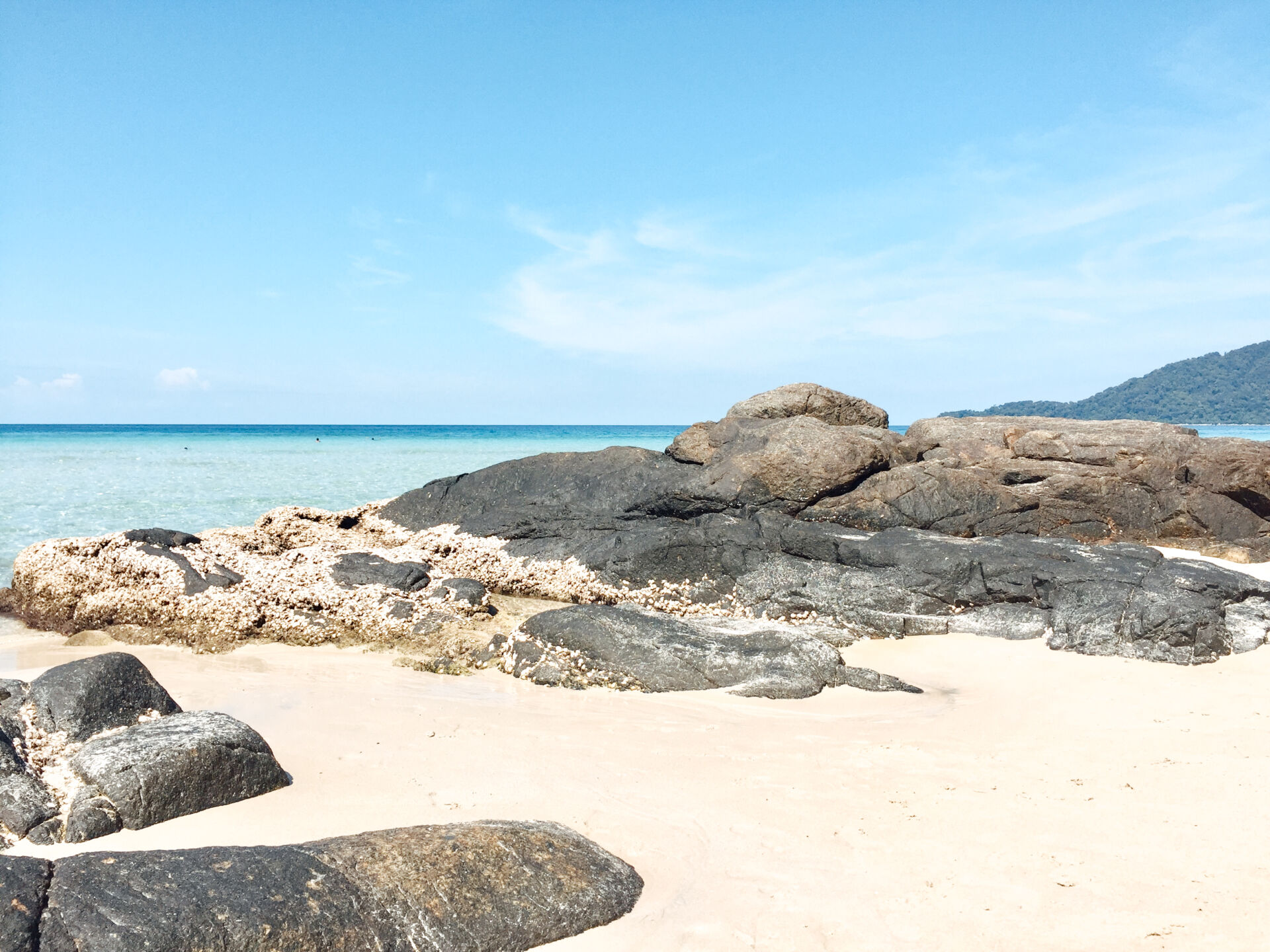 If you're dreaming of fine white sandy beaches and the clearest waters, then The Perhentian Islands are for you. Long have they been a backpacker favourite but you don't have to be backpacking to enjoy these beautiful islands. You can go for a weekend to just switch off, but there are so many things to do in Perhentian you could easily spend a week or two there.
How to Get to the Perhentian Islands
Picture postcard beaches and stunning sunsets, The Perhentian Islands are the perfect getaway from KL. Booked as a surprise for my birthday, I only knew we were going the day before and it was the perfect birthday present.
Not too hard to get to, an early and short flight, a cab and a boat meant we were there by midday. On the beach, in the glorious sea, if money were no object I would go once a month, it's the perfect place to relax.
Fly from KL to Kota Baru. At arrivals we bought a taxi and boat package which was good value. It's around an hour's drive to the jetty. If you choose the package the taxi will drop you at the right place and you'll be escorted to a boat. If you are doing it yourself, I'd recommend Grab taxi app and go to a boat office, there are loads!
What are they like?
We stayed on Perhentian Besar 5 years ago, as part of my trip to Malaysia, visiting Ben after his 12 week secondment. I remember the pristine beaches and colourful Kuala Besut Jetty. And I can happily say not much has changed.
There are some positive upgrades to the area, but it remains the same. All the main beaches now have jetties for boat landing, making it easier to get around. Kuala Besut has some great street art now but other than that it still felt unspoilt and was as busy with locals as it was tourists.
We stayed on Perhentian Kecil this time, famed for its sunsets and for being more of a party island. It didn't feel wild and in fact felt very safe. I read so many blogs that said it was rife with theft and that it had an edge to it. I really didn't feel this about it. We were lucky to be staying in a very safe resort and were travelling as a couple. I'd say to be wary but don't let it put you off going as we loved it.

Where we stayed & Hotels on Kecil
As it was a birthday treat we stayed at the amazing Bubu Villa. Amazing staff, food and resort. Loved it. There are a lot of very reasonably priced places on the island too. A lot do stay and dive packages.
Mimpi is a modern resort right on the jetty for long beach, with pool and great views. Reasonably priced and gets great reviews.
Alunan Resort is on its own beach away from the busier areas, so you'd need to get a boat. Lovely resort with great service, but a bit more pricey.
Hotels on Besar
Arwana Resort is a lovely beach resort with a pool and right on the beach. Reasonably priced and popular.
Perhentian Island Resort has the best location if you love to snorkel, it's off this beach we saw a turtle. Also a lovely hotel with great reviews.
Cozy Resort this is a great budget choice. Nice wooden beach huts with balconies overlooking the sea.
Things to do in Perhentian
1.My top recommendation would be snorkelling. Seeing a turtle is one of the most beautiful things I have ever experienced. Followed by all the spectacular fish, coral and mini sharks. We actually went off on our own, hiring a kayak to paddle to places and see the sea life. But walk up any beach and you will find lots of people offering tours too.
2.Next would be to Kayak, only don't cross the open sea, wow that was hard work! Stick to the coast of the island you are on and paddle around. So great to experience the freedom and get out on the water.
3.This would have been first, but would have been a little too predictable of me – go see the sunset on Coral Beach Perhentian Kecil. One of the most beautiful skies I've seen. There is a little shop near the furthest end selling snacks and drinks.
4.Walk through the jungle. Spot a massive Monitor Lizard. They get to be huge here and are worth seeking out for the experience.
5.Charter a private boat to a small uninhabited island. Live out your Robinson Crusoe dreams with a boat trip to one of the many small islands. Make sure you take supplies and leave no trace.
6.Get your PADI certificate. It is ridiculously cheap to get your PADI qualification here, if you love the sea, its three full days and looks amazing fun.
7.Watch a fire show. There are some excellent fire shows to been seen on Perhentian Kecil.
8.Eat roti canai. So good on the islands and very cheap. Ombok do an amazing one with curry fish – wow!
9.Eat BBQ seafood at one of the many places on Long Beach. There is one, roughly in the middle with 4 large white tents that is always super busy – would recommend.
10.Go to one of the places showing an evening film – Panorama does every night.


The Perhentian Islands are stunning, easy to see why they are so popular. I'd say the were a must see if you visit Malaysia. They are also very close to Redang and Lang Tengah, you could plan a bit of Island hopping, to really make the most of it.