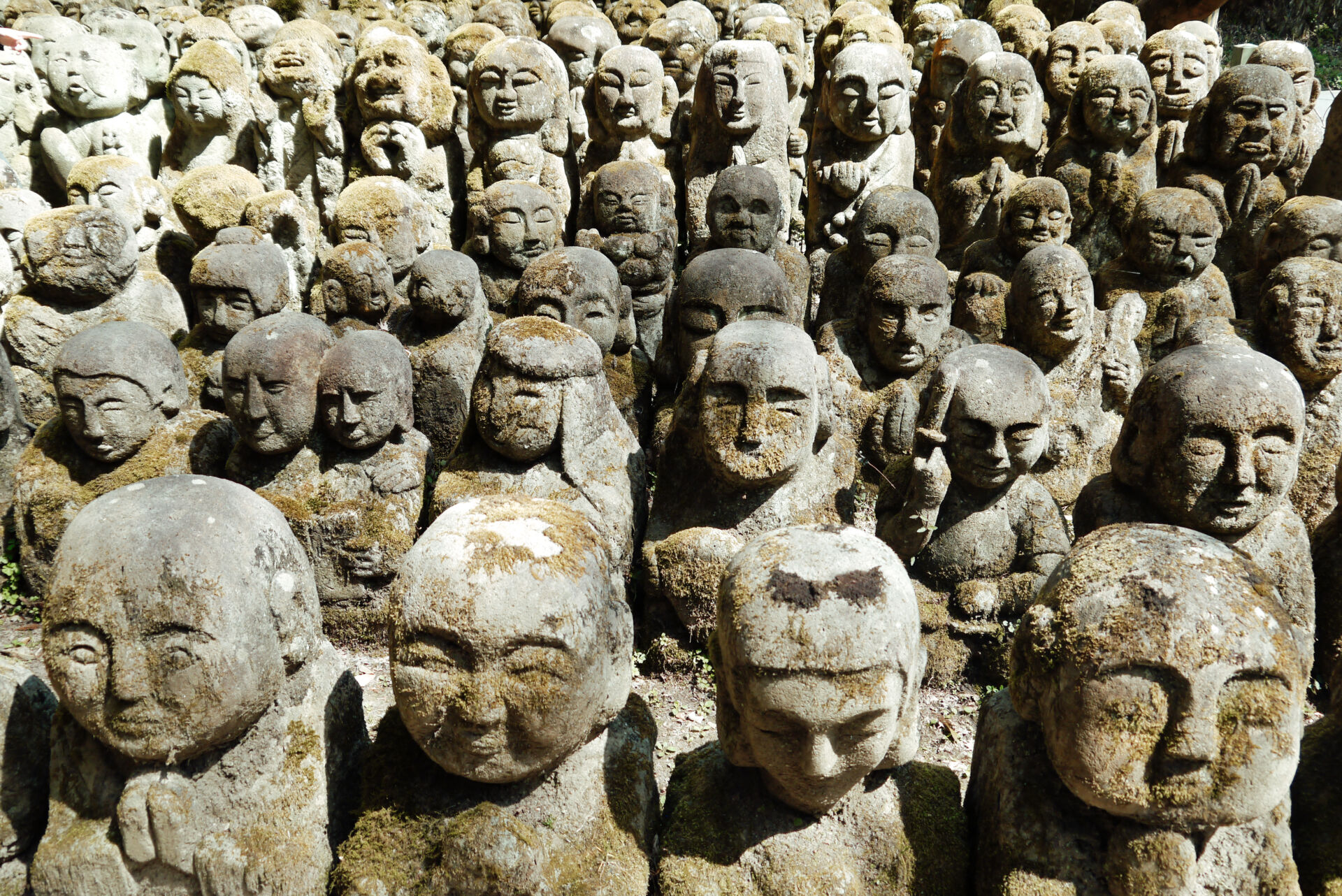 Arashiyama is famous for its bamboo forest. Thousands of people get the train out of Kyoto centre to see it. To get the classic picture of them stood amongst the beautiful trees. To hear the movement in the wind. To see the magical light.
But Arashiyama is more than just its Bamboo forest, we happily spent two days there, and found loads to do.
We arrived early, to get coffee at the famous % Arabica coffee shop, we still had to queue, but it was totally worth it. The most stylish coffee shop I've been in the most incredible setting, plus the coffee is excellent.
We decided to escape the crowds and walked to the bus stop, we caught the number 94 from the main street in Arashiyama. It goes every hour on the quarter past and takes about 10 mins. You can also get a taxi.
Otagi Nenbutsu-ji
Our first destination was Otagi Nenbutsu-ji and my favourite. A Buddhist temple that has been at its current site since 1922 after being moved to try to preserve it. The fun, circa, 1200 statues have been carved by visitors to represent Buddha's disciples. Each one is different, some can be found drinking sake, holding odd items and with interesting facial expressions. I loved them. It's very quiet here, which was part of its charm.
Saga-Toriimoto Preserved Street
From Otagi Nenbutsu-ji you can walk down the side of the main road to this lovely preserved street. There are shops and places to eat and again it is extremely peaceful. This street can be followed all the way back to the centre of Arashiyama, stopping at temples and places of interest.
Adashino Nenbutsu-ji
Just off the preserved street is Adashino Nenbutsu-ji. A temple in a lovely setting with 8000 Buddhist statues to remember those who died without family to remember them. It also hosts a bamboo grove which was unfortunately close for renovation whilst we were there. Senkouismu, a religious ceremony which involves lighting candles for Buddha, happens on August 23rd & 24th and looks like a great thing to experience.
Gioji
We continued walking down the preserved street and found Gioji. Said to be one of the greenest temples in Kyoto. A moss garden, with lovely trees and surrounded by bamboo. Again a lovely place for quiet reflection. There are two other temples in this area, Danrinji Temple and Takiguchi-dera Temple. We chose Gioji as we hadn't been to a moss garden.
Seiryō-ji
Back on to the main street. Follow it around and you will come to a gate for the Seiryō-ji Temple complex. Another favourite of mine. I liked the wide-open space and gate structure, the complex design and imposing structure is beautiful.
Bamboo Forest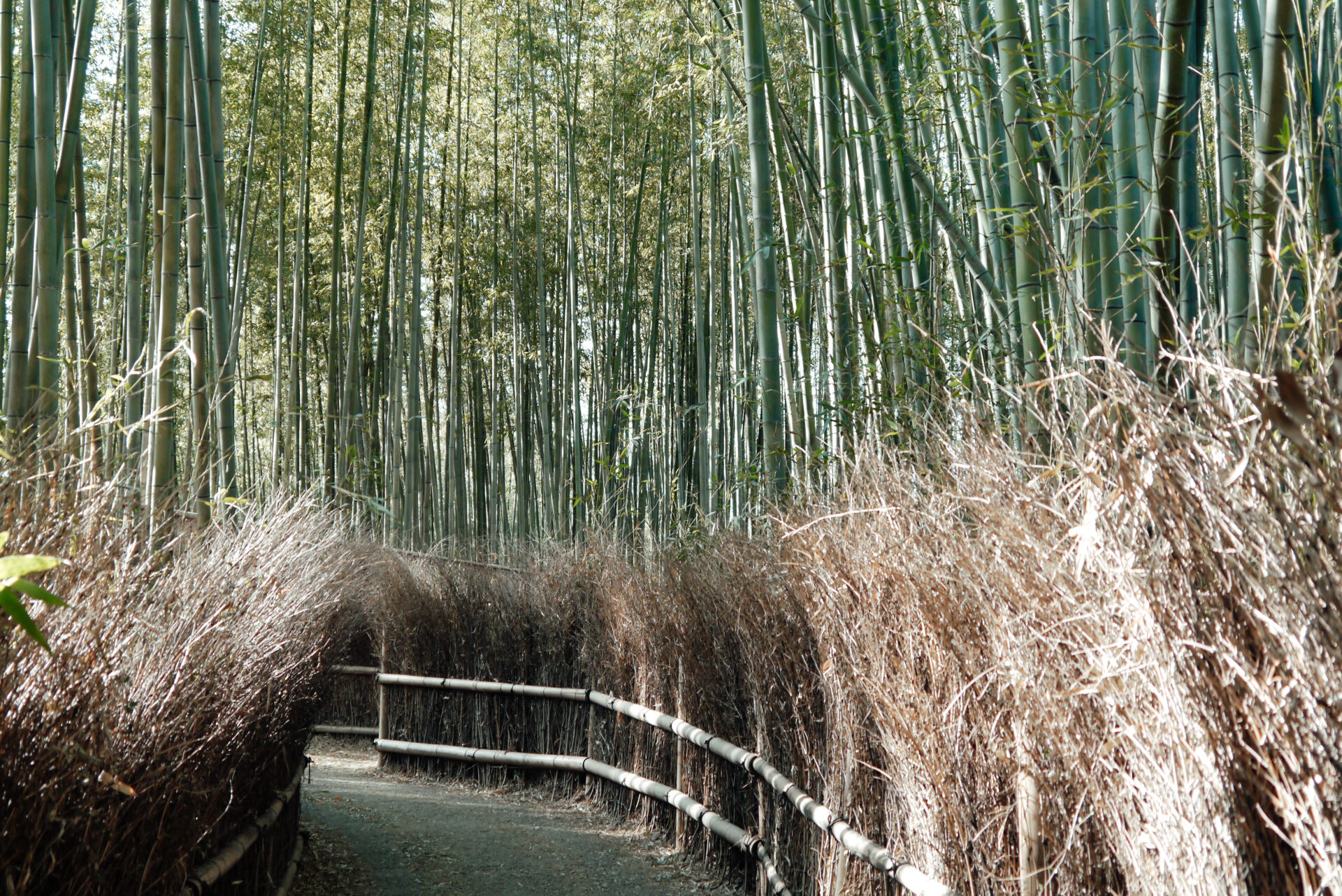 You will arrive at the main road in Arashiyama and eventually the Bamboo forest. It really is beautiful and I can see why people make the trip just for this. It is also very crowded and at times a bit too much. I recommend going early in the morning before the trains of people have arrived. Even when it was busy it had a feeling of serenity and the light was spectacular, something I found hard to capture in the pictures.
Other sights
There are other places that we didn't make it to. Daikaku-ji, a bright red temple with a lake and gardens. Jōjakkō-ji Temple is famous for its maple trees. And Tenryū-ji which is a world heritage site and said to have amazing gardens.
You can also take the old train on the Saga Arashiyama line called then Sagano Romantic Train. It takes a scenic route along the river and is said to be very pretty. Or take a boat trip on the Katsura River, again a wonderful thing to experience.
There is a Kawai purple trolley train that takes you from the station to the centre of Arashiyama and near to that a Kimono garden. Where you can walk through brightly patterned poles, decorated with Kimono prints, makes for a great picture!
Arashiyama is full of quiet places to experience the culture of Japan. We spent a night there and I loved it. There isn't much to do in the evenings, but being able to get up early and wander along the river, when there was no one around and watch the sun come up was beautiful.