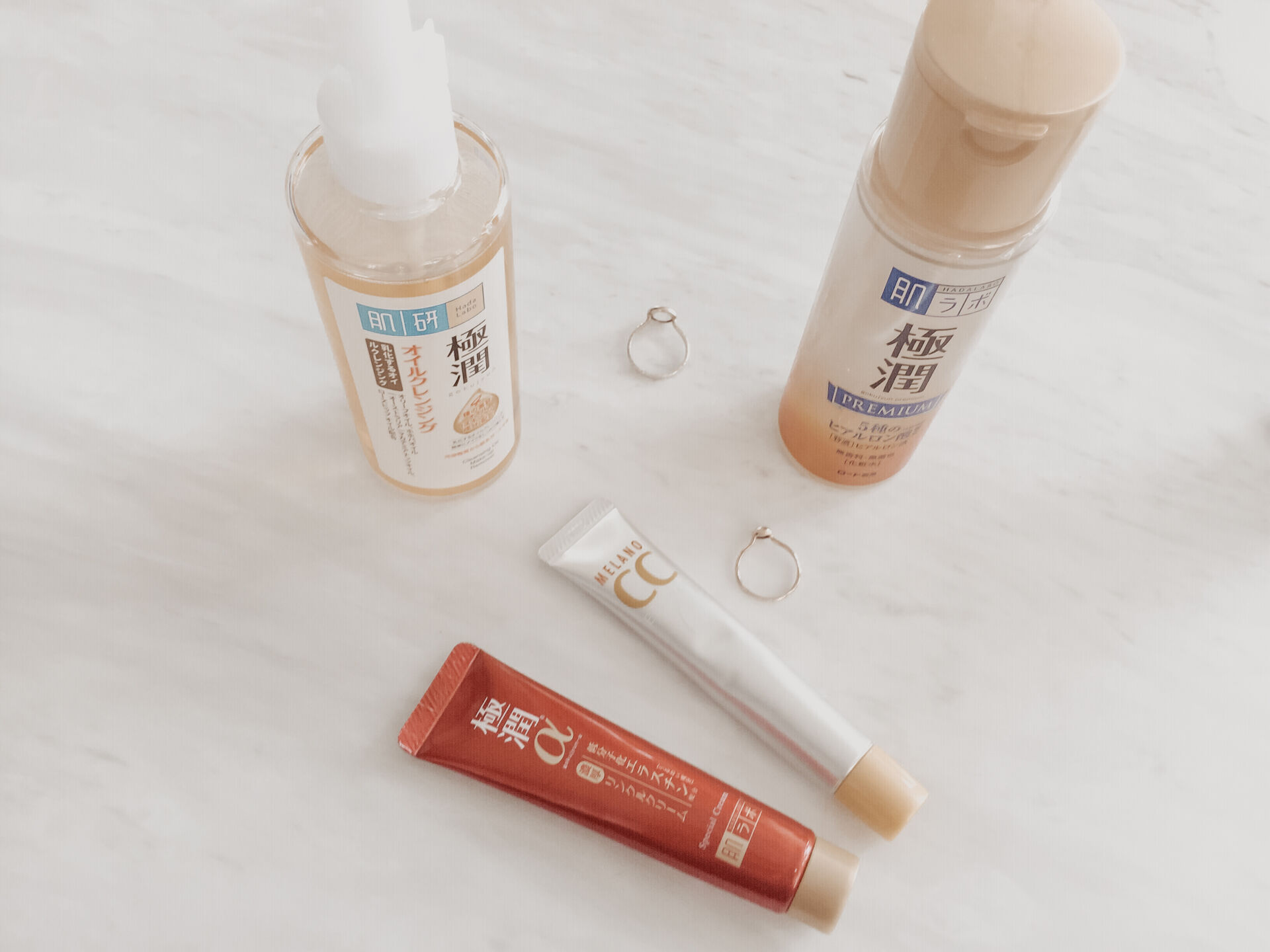 Skin care routine is huge in Japan. Across the water from Korea, where skin care is also an obsession, its easy to see why. As you wander around Tokyo there are countless drugstores, all advertising tax-free shopping and huge department stores filled with amazing products. You could get lost in a world of creams, potions and lotions, I did.
The Japanese routine is not too dissimilar to the Korean one, it has many steps but is a little more streamlined. I gave it a go, not buying everything at once, because who can really afford that! But adding things gradually in and trying them out.
I have to say I love the process, it feels like I am investing in myself and taking the time to treat myself right. The products are great, I haven't tried a bad one yet. So here it is, my rundown of the skin care routine and my favourite/recommended products…
Evening Skin Care Routine
Oil cleanse to remove all make up. I love DHC Cleansing Oil, massaging it into your skin feels so luxurious. It's olive oil based and removes all make up.
Cream cleanse Senka Shiseido Perfect Whip is a classic choice and gentle on the skin. It works best if you foam it up in your hands first before applying it to your face.
Exfoliate I like a chemical exfoliant (huge Pixi Glow fan here) but they are not as popular in Japan. The DHC powder is winging its way to me as I write. The reviews are good and I like the idea of trying an enzyme exfoliator. I will update you, when I've tried it!
Lotion/skin conditioner I use Hadalabo JAPAN Skin Institute Gokujun premium hyaluronic solution and it might sound dramatic but this is a hero product. I can put this on a puffy face and it immediately looks better. I will always keep this in my arsenal.
Mask 7 days of sheet face masks in one pack – Winner. I loved the Lu Lu Lun Balance Masks. Light, hydrating and left my skin feeling soft.
Serum Melano CC Age Spot Beauty Essence is another product I was going to pick up in Japan but didn't. Its on its way to me now, I'll update you on it when I've tried. If you really want to treat yourself SK-II Facial Treatment Essence is apparently amazing. It's going to be a duty free purchase for me I think!
Eye Cream SANA Nameraka Wrinkle Eye Cream is a drugstore product that I really love. I did a lot of research into eye creams whilst in Japan and this came up as the best budget product. Soy milk and retinol derivatives help to smooth the eye area, it also feels lovely on the skin.
Night cream/ sleeping pack DHC Extra Nighttime Moisture or Shiseido Benefiance Wrinkle Resist Night Cream come with excellent recommendations. As a lover of the DHC oil cleanser I think I will be ordering the Nighttime Moisture too.
Face Roller I use the beautiful rose quartz one below but there are also jade versions and stones that look odd but when you see in use make sense. This has really helped my face. It's less puffy and looks different, since using this roller.
Skin Care Routine Daytime
Cleanse I just wash with warm water and pat dry. You can use a micellar cleanser if you prefer.
Lotion High Moist Cezanne Skin Conditioner next, this is excellent for hydrating the skin. A nice light lotion that dries easily and feels great on the skin.
Essence DHC Platinum Silver Essence, according to the reviews is deeply moisturising and light at the same time.
Serum Shiseido Ibuki Softening Concentrate is light but helps even skin out and hydrate it. I love Shiseido products, I recently tried and loved their Waso Cleanser, Jelly lotion and Quick Matte Moisturizer Oil-Free all excellent.
Eye cream I use theSANA Nameraka Wrinkle Eye Cream in the day too. I like a product that can be used for multiple things and I feel this can. It absorbs well so doesn't feel too heavy on the skin for the daytime.
Day cream I like a light final product so another Hado Labo gem the Gokujyn Hyaluronic Mist is absolutely perfect for me. The above mentioned Waso Jelly lotion and Quick Matte Moisturizer Oil-Free would both be good alternatives.
Sunscreen Biore Sunscreen is perfect for the face, light so it doesn't clog the pores and SPF 50
Of course if you are not looking after your skin from the inside then no end of lotions and potions will help. Japanese women also swear by:
Get at least seven hours of sleep every night
Drink water, lots of it.
Avoid smoking and drink alcohol in moderation
Relieve stress
Take 30 minutes exercise at least 3 times per week
Eat foods that benefit skin health like sushi and green tea, walnuts, avocados etc.