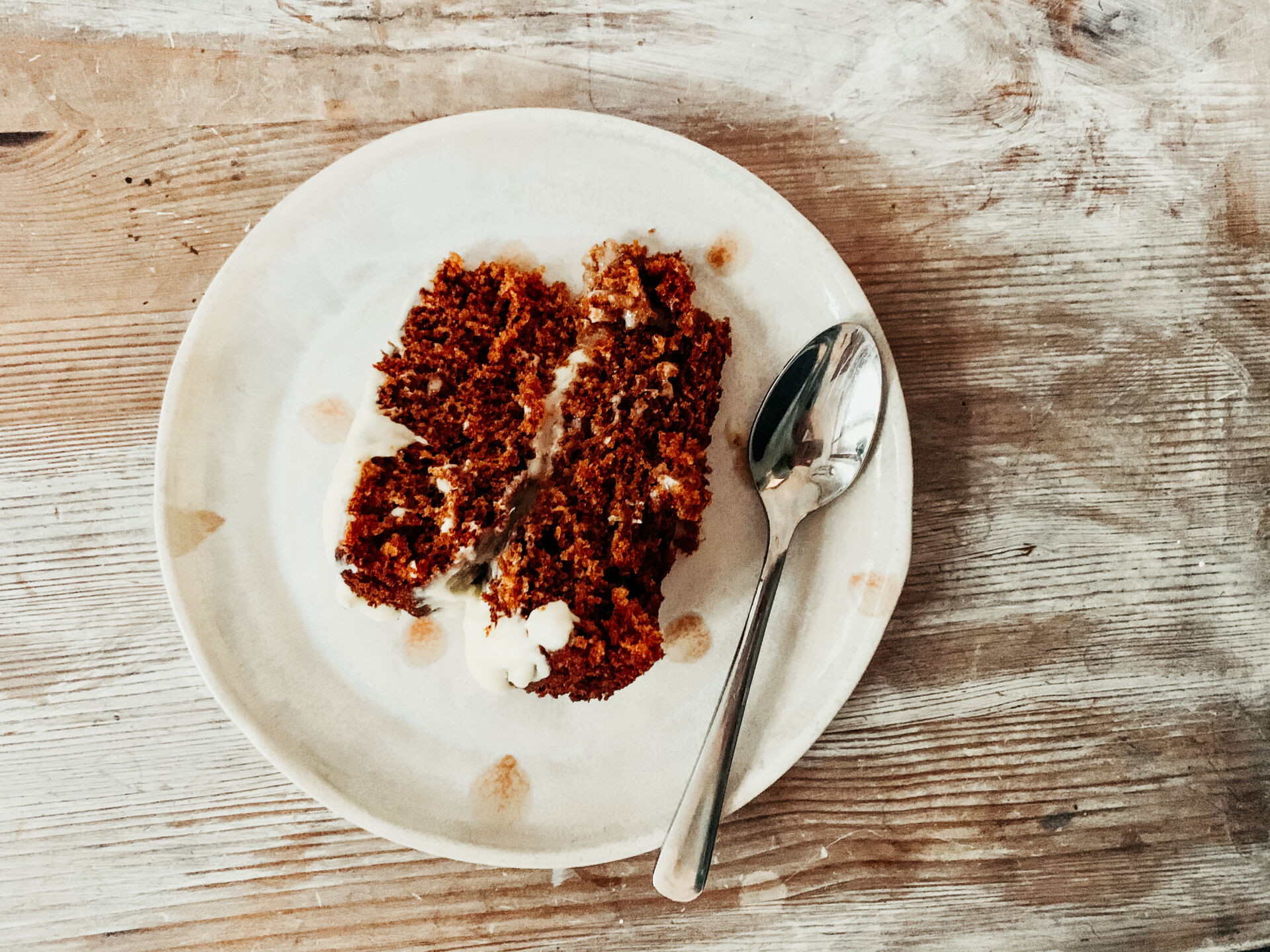 I've made carrot cake before, which although nice I felt I could taste the oil in it. Being very traditional about some things, baking being one of them, I like to use butter as my fat when making cakes and other sweet treats. So when I decided I'd make a carrot cake for a special thirtieth birthday I knew I had to do some research.
There were many recipes that used butter instead of oil but the best I found was Martha Stewart. The texture was perfect, it was incredibly moist and the icing tasted superb! I did adapt it slightly so will post my version of the recipe below…
Ingredients
Carrot Cake
375g plain flour
1tsp baking powder
1tsp bicarbonate of soda
1tsp cinnamon
3/4tsp sea salt
1/2 tsp ground ginger
150g sultanas (optional wildcard)
1/4 tsp ground nutmeg
330g unsalted butter at room temperature
175g light brown sugar
112g granulated sugar
3 large eggs
3 tsp vanilla essence
450g carrots grated
1/2 cup water (check the consistency of the batter and add as needed)
200g pecans finely chopped 1/2 for mixture half for decoration
>prep time 15 mins >cook time 30 mins >cool time 15 mins
Cream cheese icing
450g cream cheese
2 tsp vanilla essence
1 tsp lemon essence
220g unsalted butter at room temperature
900g icing sugar
>prep time 5 mins > decorating time 10 mins
Cake
Preheat the oven to 175 °C or 155 °C fan oven and grease and line the baking tins (I used two 9 inch round tins but you can use 3 if you like) with grease proof paper.
In a bowl mix the flour, baking powder, bicarbonate of soda, cinnamon, salt, ginger and nutmeg. In a different bowl beat both sugars and butter together using an electric whisk, on a medium speed. Add the eggs one at a time making sure they are well combined. Beat for 3 minutes then add the vanilla essence pecans and carrots then beat for a further 2 minutes until mixed well. Sift the flour and spice mix into the batter and fold in using a spatula. At this point check the consistency of the mix and add some or all of the water until the batter is thick but drops easily off the spatula.
Spoon the batter evenly into the separate tins leveling them off. Bake the cakes for 30 minutes, rotating the tins halfway through baking. After 30 mins check if they are cooked using a knife or skewer inserted into the middle of each cake. If it comes out clean it is cooked, if not cook for a further 5 mins and check again, repeating the process until cooked.
Leave the cakes in the tins for 15 mins, then remove them and let cool completely on wire racks. Whilst they are cooling you can make the icing.
Icing
Mix the cream cheese lemon and vanilla essence using an electric whisk on a medium speed. Add in the butter and mix until smooth. Use a spoon or spatula to mix in the icing sugar at first (this stops the icing sugar-making a cloud) then use the whisk on a low-speed to ensure its smooth. Taste at this point it should have subtle hint of lemon, if not add a little more essence.
Now you can ice the cake. Start with the middle of the cake, spread it thick as the cake absorbs a lot of the icing, I'd recommend using about 2 cm. Now place the cake together and using a palette knife spread the icing on evenly and quite thick. You may want to refrigerate for an hour and apply another layer – it's up to you! When happy with the icing add the rest of the chopped pecans to the side and refrigerate for an hour, take it out and serve at room temperature, with any left over icing in a bowl on the side.
To see my other experiments in cooking see here… Recipes