Koh Lanta had been on my wish list for a while. A recommendation from a friend and lots of blog posts later, we booked a long weekend at the beginning of rainy season, known as green season. And it was absolutely perfect.
It's big enough to provide plenty to do but small enough to feel like the perfect island paradise. I'd highly recommend going during the start of green season as the hotel prices drop significantly and the island felt less busy.
Koh Lanta is actually two islands Koh Lanta Noi and Koh Lanta Yai, meaning Koh Lanta Little and Koh Lanta Big. They are connected by a bridge and are reached by ferry from the mainland. They are about an hour's drive from the airport, the wait for the ferry and crossing mean it takes closer to two hours to get there from the airport though.
Cost Saving Tips
We actually paid nearly half the price of booking the same hotel in dry season. So it's worth risking the odd cloud and shower for a huge saving like that, in my opinion. We went in June and the weather was hot and sunny with the occasional shower. In my opinion that is perfect.
Hire a scooter, yes they are much cheaper from a local shop than your hotel, but I read about passports going missing when people hired scooters and thought it wasn't worth saving a few quid for the risk. Hiring a scooter will save you a fortune on organised tours or paying for cars and you get the added bonus of the freedom.
Koh Lanta – our favourite things
I loved that the size of the island made it feel really safe to use a scooter for exploring. That armed with a map, some sun cream and some water we could go off and see the island. In the 2 days we hired the scooter we managed to get around most of the big island, Koh Lanta Yai.
Walking along the beach has to be one of my favourite things anywhere in the world and Koh Lanta did not disappoint. The island has plenty of long stretches of beach, Klong Dao beach, the one we stayed on is 3 km long, perfect for my pre breakfast bimble.

Mu Ko Lanta National Park
was my next favourite thing to do. It is a picture perfect scene with a lovely beach and places to picnic, just watch the monkeys, they'll have anything they can get. We climbed up to the top of the light house and had a dip in the sea. Lovely. It's 200 THB to enter but was a lovely few hours.
Koh Lanta Old Town & Pier
is a great place to get some food, have a wander and see the old houses on stilts over the sea. I loved the brightly coloured shrine in the middle and the many craft style shops that lined the street. My favourite was Malee Malee. A great shop selling local crafts, lack of checked bagged meant I didn't buy much. They also do great coffee.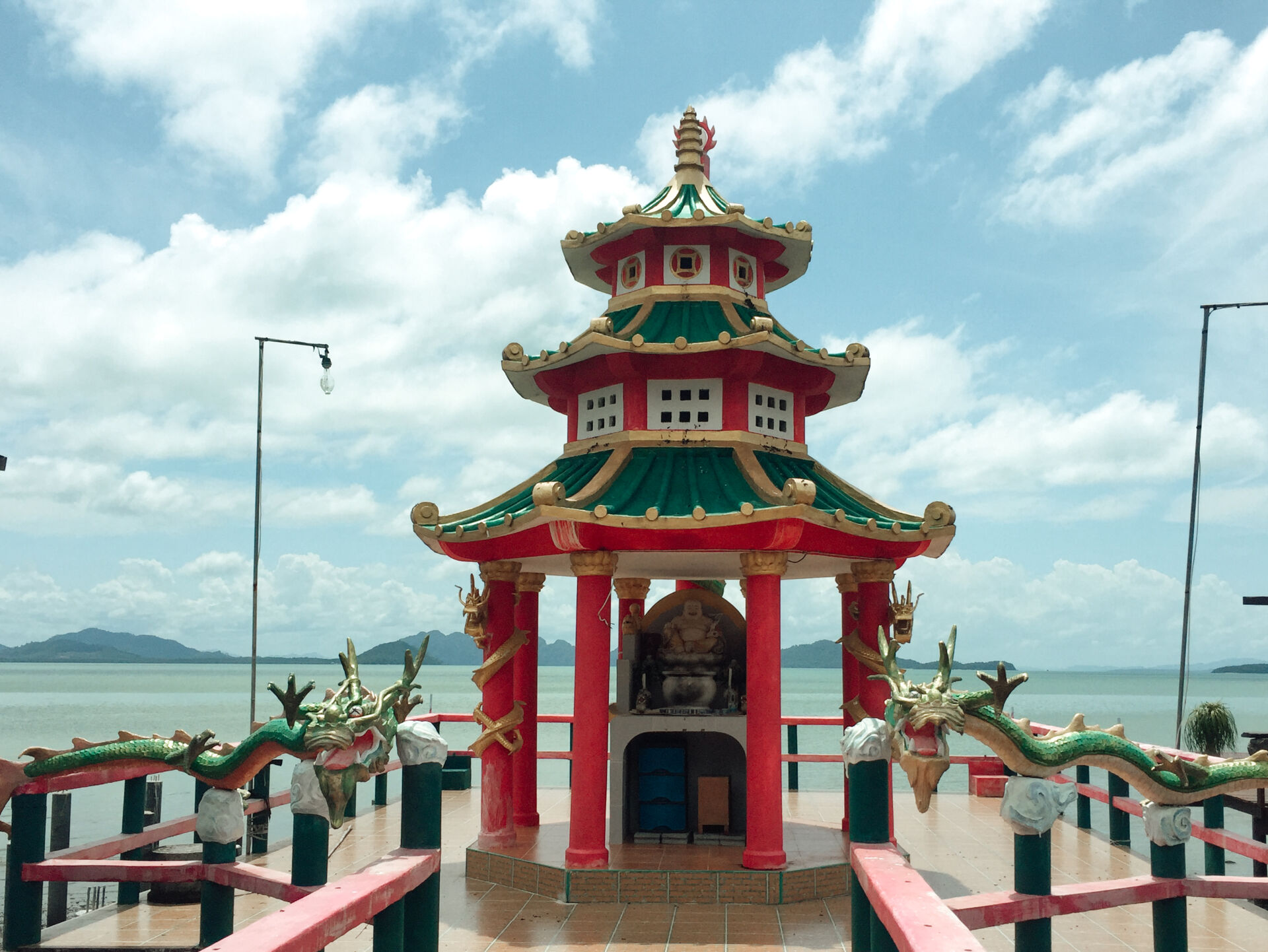 Koh Lanta – Food and Drink
Koh Lanta has lots of options for good food. Lots of choice for vegetarians and plenty of places to get a beer. There are some great bars along Long Beach to sit and watch the sun go down whilst listening to the waves.
This was our favourite restaurant, we went back twice, which is unheard of when away. We like to try as much new things as possible, but the food and atmosphere was just so good we had to return on our final night. Great Thai food and fresh fish.
The most beautiful view out to two small islands. They do great coffee and the food looked good. The view though is just amazing (above) and worth the stop alone.
Another spectacular view, with its own lovely beach. A great place to watch the sun go down and the food is really good. It gets busy though so booking a table might be wise if you have your heart set on going there. We were very lucky!
The place to go for a full moon party and obligatory fire show. Great vibe, reasonably priced beers and right on the beach. This place served food and had a pool table too.
Our hotel was one of our favourites by far, on the beach below, close enough to hear the sea. We booked a sea view villa and spent time with the door open listening to the waves rolling in, so peaceful. The food was great and the location was good. The Twin Lotus Resort and Spa was beautiful, not cheap (it's more reasonable in wet season), but totally worth it.
Stopping at quiet unspoilt beaches along the way was wonderful. There are so many to choose from, in the green season it is so quiet you can have one completely to yourself. Just get on a scooter and see where you find would be my top tip!
Things we didn't have time for
Island hopping
Koh Lanta is part of an archipelago of over fifty islands, only a few of which are inhabited. You can get charter a long tail boat, go on an organised trip of canoe to some of them. Take a picnic, water and sun cream though, you don't want to end up on a deserted island without supplies, unfortunately I know this from experience!
Scuba diving/ snorkelling
Expect to see turtles, sharks and seahorses. Koh Lanta is getting a reputation for being good for diving. The islands in the national park offer some excellent coral and the odd cave. Trips can be arranged at your hotel or on the main beaches.
Visiting the caves
There are caves on Koh Lanta Yai, guides are recommended as it involves trekking to find them and can be easy to get lost. It's about 300 THB per person for a guide.
Tham Mai Kaew Cave is clearly signed from the main road. It requires a certain level of fitness, as you'll need to climb ladders and squeeze through gaps to reach it.
Less Strenuous is Tiger Cave, reportedly the home of Tigers many years ago. It takes around a 30 minute hike to reach.
I loved Koh Lanta, the perfect island in my opinion. It felt like a tropical paradise, with so much to do, I would happily go back. Writing this has made me wonder if we could squeeze in a long weekend before we leave Asia in December?