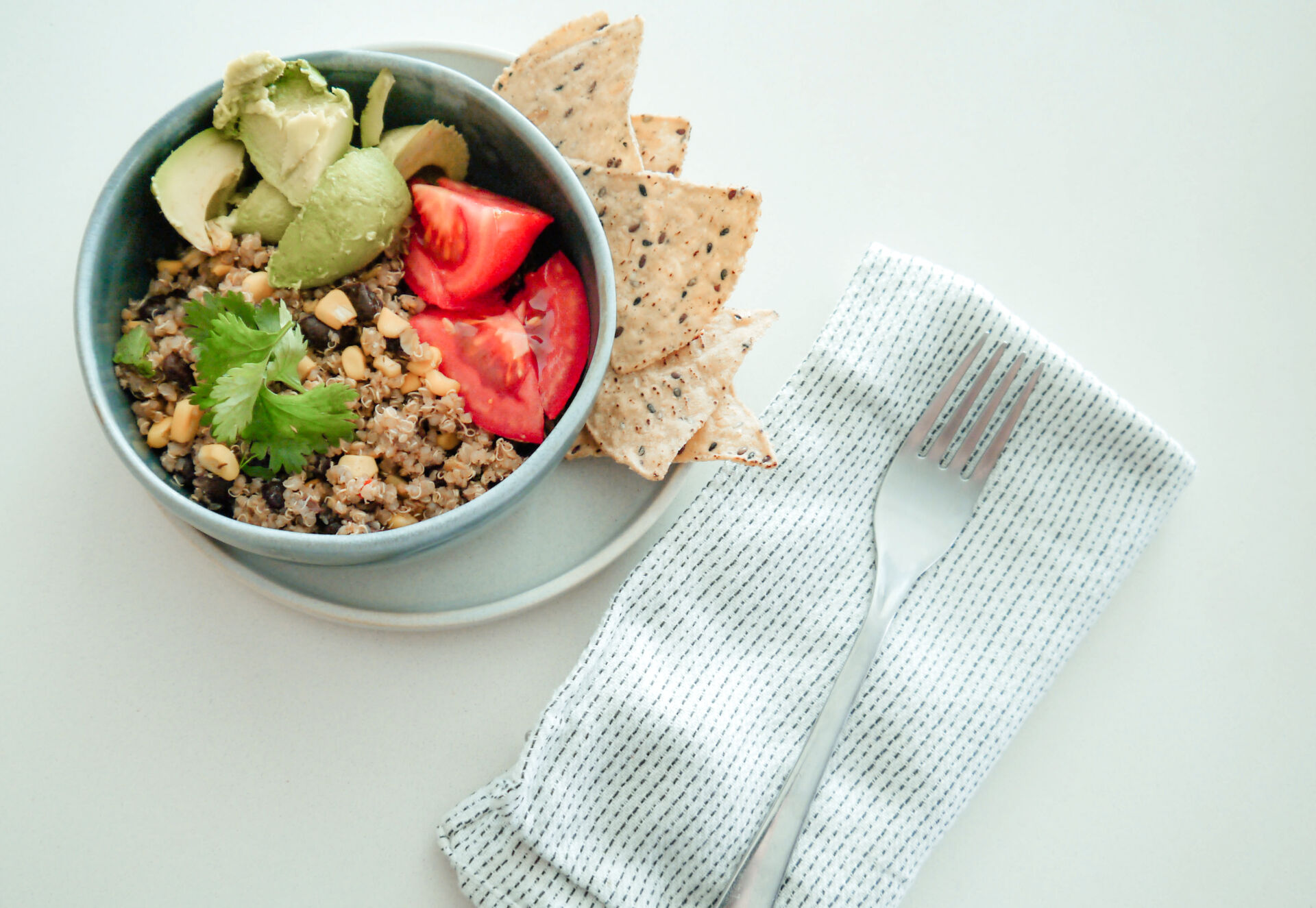 Back with a none brunch recipe this week. Although, if you are anything like me, you could eat this for brunch, I have an anything goes brunch approach. And this Mexican quinoa is right up my street, brunch or not!
I love quinoa for its health benefits but the smell of it always put me off. I continued to keep trying it, still not sure until I tried this Mexican quinoa recipe. It is a great mix of textures and flavours – I am hooked!
It contains beans, garlic, avocado and spinach leaves, all with excellent health benefits.
Mexican Quinoa Bowl Recipe
Ingredients
1 tsp oil
2 large spring onions chopped
1 chili diced
1/2 tsp dried coriander
1 cinnamon stick or 1/2 tsp cinnamon
1 tsp garam masala
1 tsp chili powder
1/2 tsp cumin
1 tsp thyme
1 vegetable stock cube
200g dry quinoa
400ml hot water
1 can black beans
1 whole corn on the cob
1 avocado chopped into chunks
1 large vine tomato chopped into chunks
1 handful of tortilla chips or a tortilla
chopped coriander
optional salsa and or yoghurt
Prep> 15 mins Cook <15
In a non-stick pan heat the oil on a medium heat and add spring onion and chilli, gently cook for a couple of minutes. Add the quinoa, all the herbs and spices, season and stir until combined.
Dissolve the stock cube into the hot water and pour into the pan. Cook for 15 mins or until the water has all been absorbed.
Add the sweet corn a few minutes before the quinoa is ready and when all the water has gone add the black beans and heat everything together.
Place the tomato and avocado in a bowl add the cooked quinoa mix and the tortilla chips.
Add the coriander and optional extras, eat.
This is a recipe I am going to keep coming back to. So delicious and comforting but healthy, light and packed full of goodies. Try it and let me know what you think below!