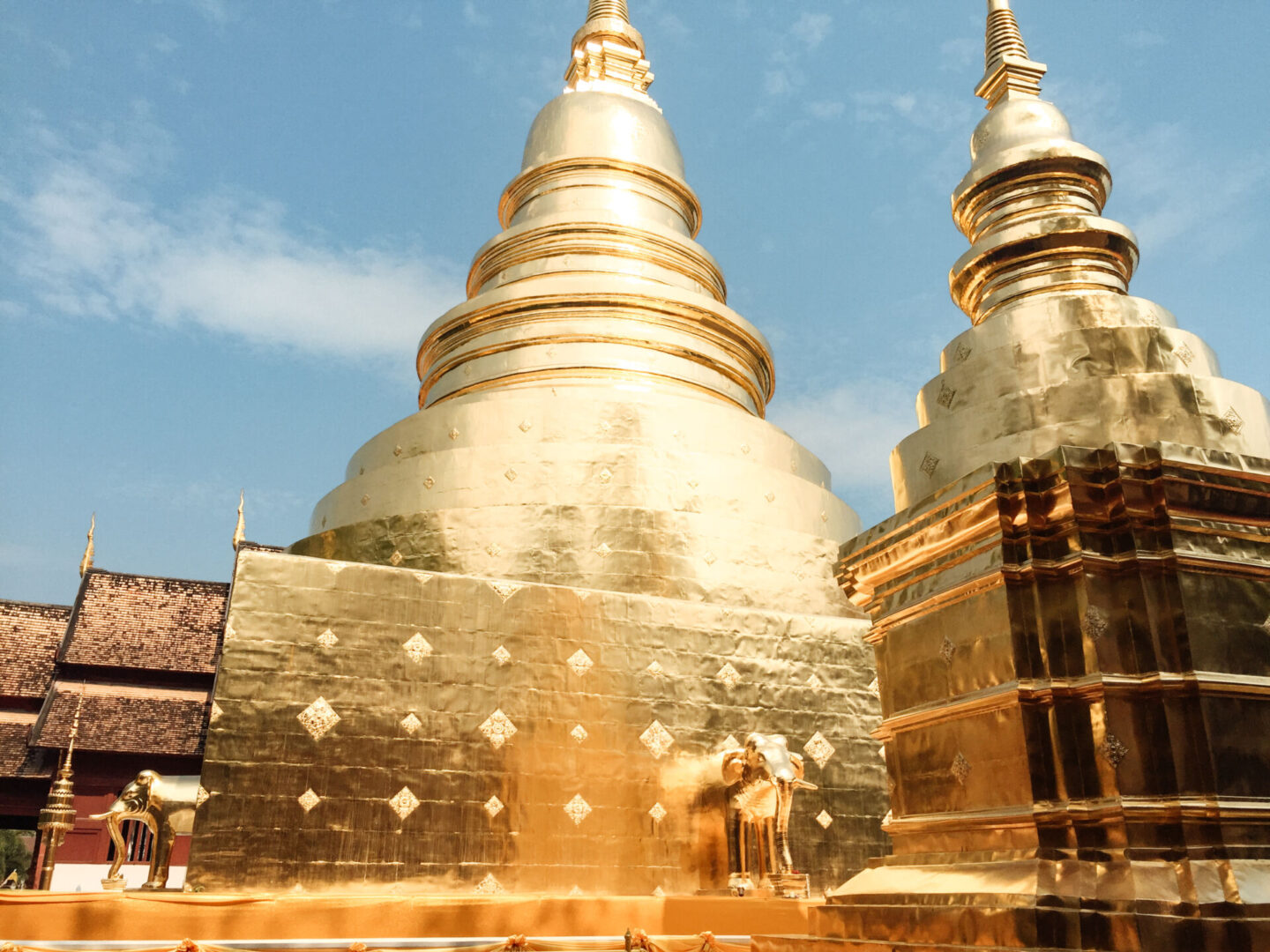 Well, Chiang Mai was a real treat. Nothing like I'd expected. Much bigger, with so much more to do, without feeling overwhelming. It's flat, meaning riding around on a bike is a must-do, and has loads of great places to eat and drink. There is so much that, I wrote about things to do in Chiang Mai as a three-day guide, to make it a bit easier to navigate.
Get a bike, they are super cheap for a day and most hostels have them to rent. My favourite thing to do when I arrive somewhere is to get to know the city, so I can get my bearings. A bike is my favourite mode of transport for this. Find your way to the moat and follow it around, stopping when you spot something of interest.
Things To Do in Chiang Mai – Day One
Daytime
We went clockwise around the moat stopping for coffee and food at Sri Chiang Yeun House. This was a lovely looking hostel, with good service and delicious food. We'd intended to go to Free Bird Café a few doors down but it was closed for Songkran. Sri Chiang Yeun was a great alternative.
The internal streets of the old walls are beautiful, full of shops, bars and cafes. Not to mention the temples. There are so many, over 300 in fact, that it can feel a little overwhelming to choose. You could spend an entire week trying to get around them all and you might just manage it.
My advice: pick a variety; don't just go for the popular ones. See fewer for longer, rather than try to fit loads in.
We visited four excellent ones in our 3-day trip and saw plenty from outside the walls. You'll be able to comfortably see two in a day, bearing in mind the heat. We tried to get up early and do things until around 2 pm when it got unbearably hot, then either take a siesta or find somewhere cool to hang out.
Wat Phan Tao
This beautiful temple and grounds, is quieter than its neighbour Wat Chedi Luang, with the most beautiful orchids in the gardens and shaded places to sit. I loved the bells. The temple was made from teak, in the 14th century, as an offering to Buddha. The ornate detailing above the door is stunning.
Wat Chedi Luang
This complex is very popular but has big enough grounds, so doesn't feel too busy. Built between 1385 and 1402, it was damaged in an earthquake in 1545. It has been restored in parts, but I feel its damage only adds to its charm. This is also the place to have a chat with a monk. You can ask them anything; although tempted, we decided not to.
Stay With Hug Coffee is just behind the above temples and does an amazing iced coffee.
Evening
Chiang Mai has some great food markets come evening. Well worth a wander and it's even possible to find good veggie street food. Two we tried were Chiang Mai Gate Night Food Market and Chang Phuek Market. The latter is smaller but was really close to our hostel, both have great options for food and drink.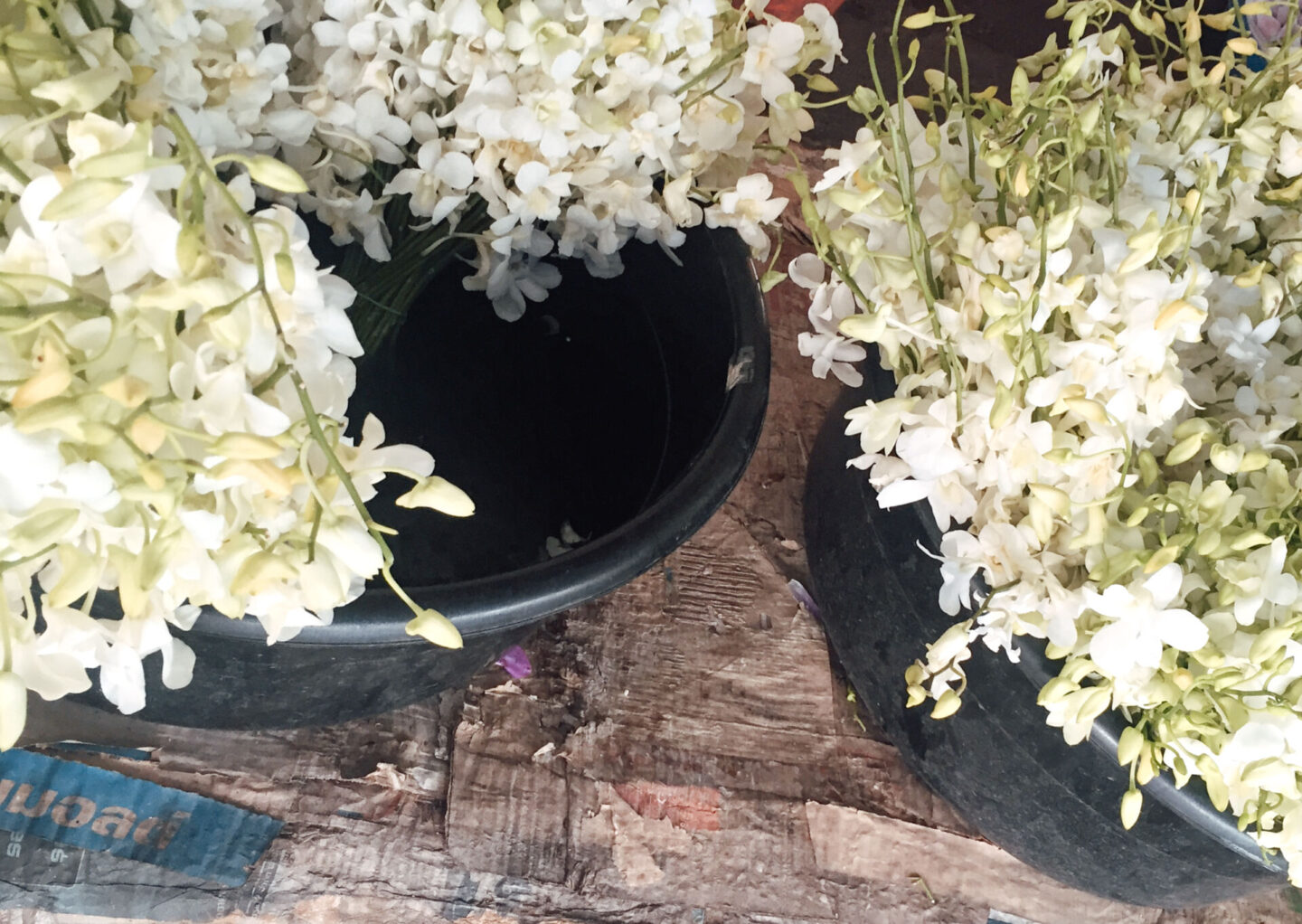 Things To Do in Chiang Mai – Day Two
Daytime
Another early start, we cycled around the city moat. With stops to visit the temples, you will find it takes longer than you'd think to cover the whole area.
We then ventured to the city flower markets, a nice cycle down to the river and along. People at the market were buying their flowers and beautiful jasmine garlands for Songkran.
After a couple of hours of exploring we stopped at The Highlander, a bike shop/café, to buy sandwiches and mango smoothies.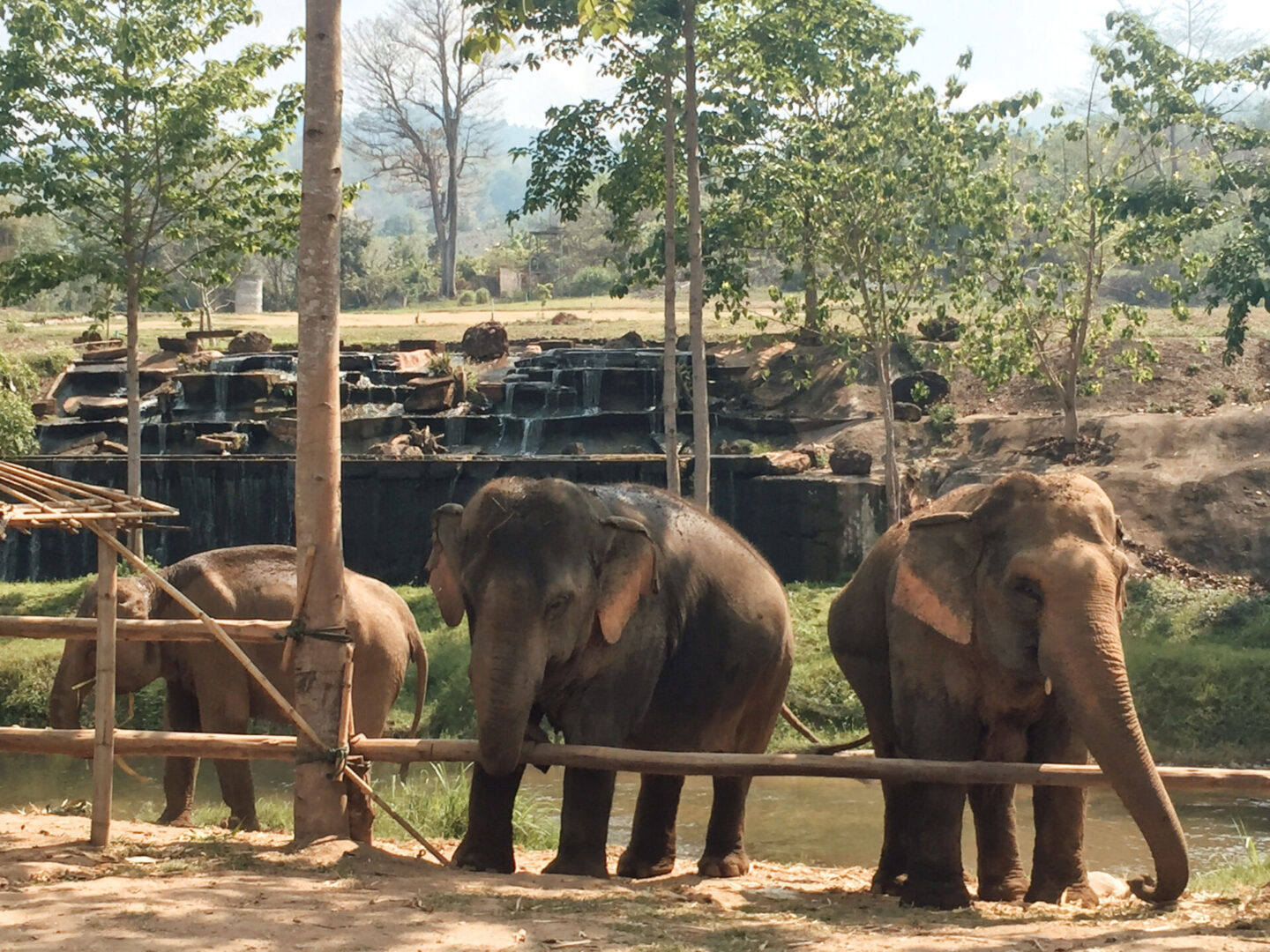 Then back to our hostel to change and be collected to go to Elephant Nature Park. This was the highlight of the trip for me. A must-do thing when you visit Chiang Mai but be careful who you spend your money with.
Unfortunately, there is still a lot of cruelty in animal tourism. There are still places that offer elephant rides, or that chain them up. And yes any kind of animal tourism is a dubious thing but a lot of the parks that actually rescue animals from cruelty need money to survive. So if it's ethical and well run, I see giving my money in exchange for spending some time around these magnificent creatures as a good thing.
Elephant Nature Park was set up by Sangduen "Lek" Chailert in 1995. They have 35 elephants that have been rescued from the logging and entertainment industries. There are no bull hooks here and the elephants are very much in charge. They also rescued 350 dogs and provide free veterinary services to animals of locals near the park. Lek is working worldwide to save elephants and employs refugees. A truly outstanding person.
We had a half-day, the twilight package. We fed the elephants, bathed them in the river and walked with them back to their home. After which we were fed a lovely homemade meal and treated to local dances by the village students.
I couldn't recommend this highly enough.
We got back around 7.30, changed and went to an area of bars on Ratchawithi Road, don't worry you'll hear them before you see them! A great place to get a few drinks, but be warned it is lively.
Things To Do in Chiang Mai – Day Three
We were lucky to experience Songkran whilst we were in Chiang Mai and I'd say if you can go that time of year, you will love it! It's so hot and the (sometimes iced) water down your back can be a welcome relief. We spent some of the morning cycling around the moat, getting soaked and watching the parade.
Using the rest of the morning to visit the final two temples of our trip and get an epic bagel at Bagel House.
Wat Chiang Man
This temple is one of the oldest in the region with a wonderfully serene garden. It is home to the crystal Buddha, which is thought to have healing powers. It is quieter than others making it a nice place to sit in the shade.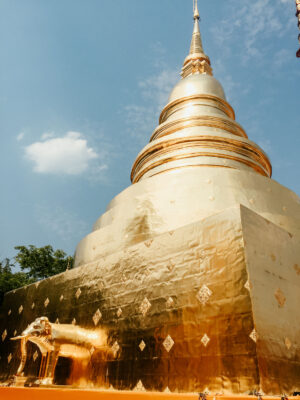 Wat Phra Singh
This was my favourite temple. I especially liked the Phathetkuang, the main chedi (the picture at the top of the page) within the grounds. The gold glistening in the sun with the bright blue sky captivated me. Built-in 1345 and renovated in the 19th century it is very popular at Songkran.
We headed back to our hostel to check out, have a massive water fight and get to the train station for our overnight sleeper to Bangkok.
Chiang Mai is definitely a place I will be venturing back to. I loved it! It had a city feel but was small enough to feel familiar after a short time. It had bags of culture, great food and a nice atmosphere. I can see why so many people rave about it and why others up sticks and move there.