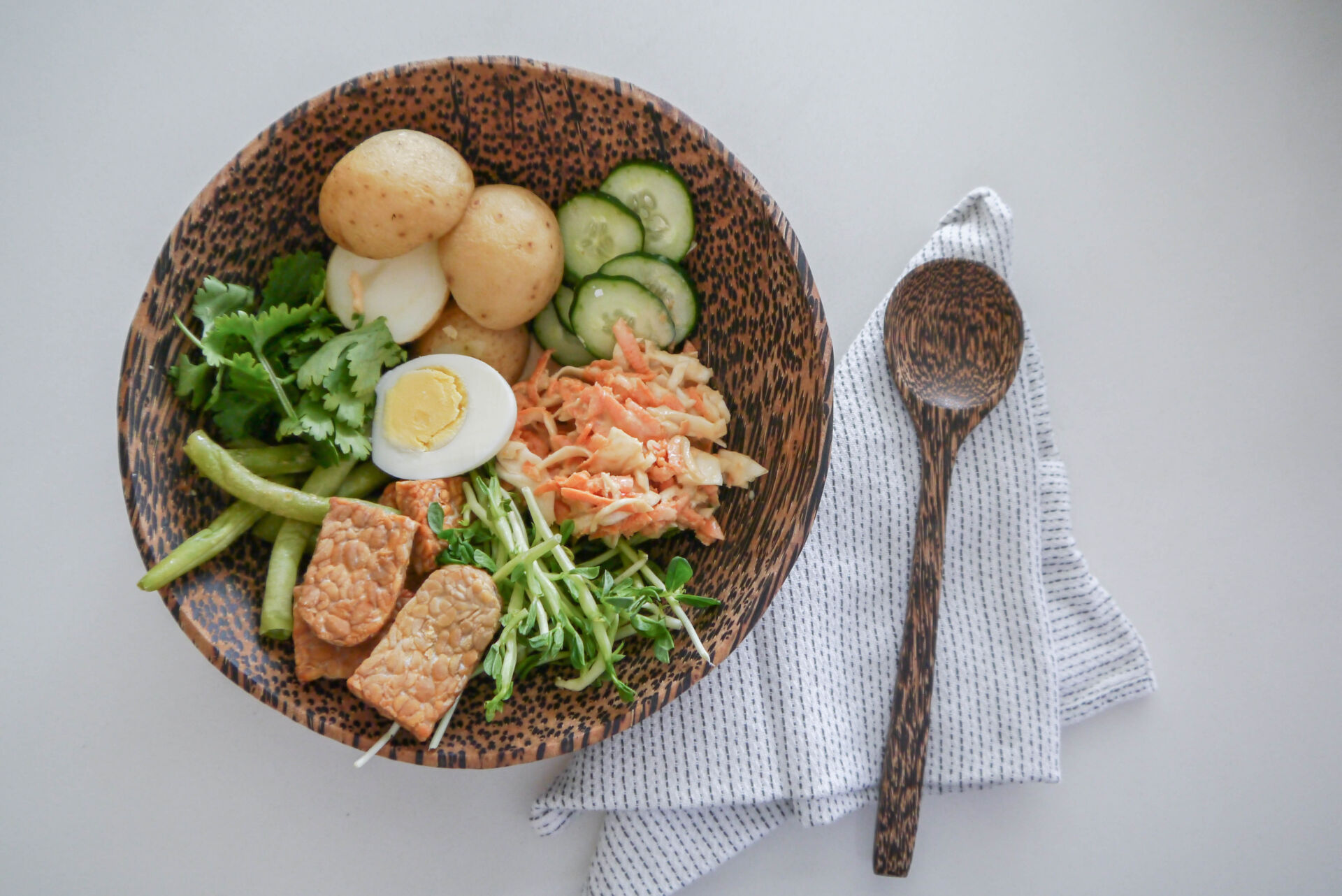 Dreaming of Bali, lead me to have a go at this Indonesian staple. The sauce is similar to satay but a touch more heat in it and the different textures make this dish a real treat. Have a go at this yummy gado gado recipe, you won't regret it!
Yummy Gado Gado Recipe
Ingredients
2 eggs
200g Tempeh or Tofu
200g new potatoes
100g green beans
½ cucumber sliced
100g bean sprouts I used pea sprouts
1 carrot grated
250g White cabbage, finely shredded
handful coriander
crispy onions – you can make these yourself by adding flour to a chopped onion and shallow frying
Prawn Crackers (optional)
Peanut dressing
50g peanut butter
2 tbsp soy sauce
½ tbsp honey
1 tbsp soft dark brown sugar
2 garlic clove
2 Birdseye chillies
200ml coconut milk
1 lime, juiced
Prep > 30 min's
Put the potatoes on to boil and the green beans over them in a sieve to steam. Whilst they are cooking add oil to a frying pan and chop up the Tempeh or tofu into strips, cooking until brown, turning as needed.
In a blender add all the dressing ingredients and whizz up until smooth.
Slice the cabbage and grate the carrots. In a separate bowl add the carrot , cabbage and peanut sauce, stirring to combine.
6 minutes before your potatoes are ready add the egg to hard boil it.
Then it's a matter of assembly. Put together a beautiful bowl and enjoy. Pin this recipe for later…